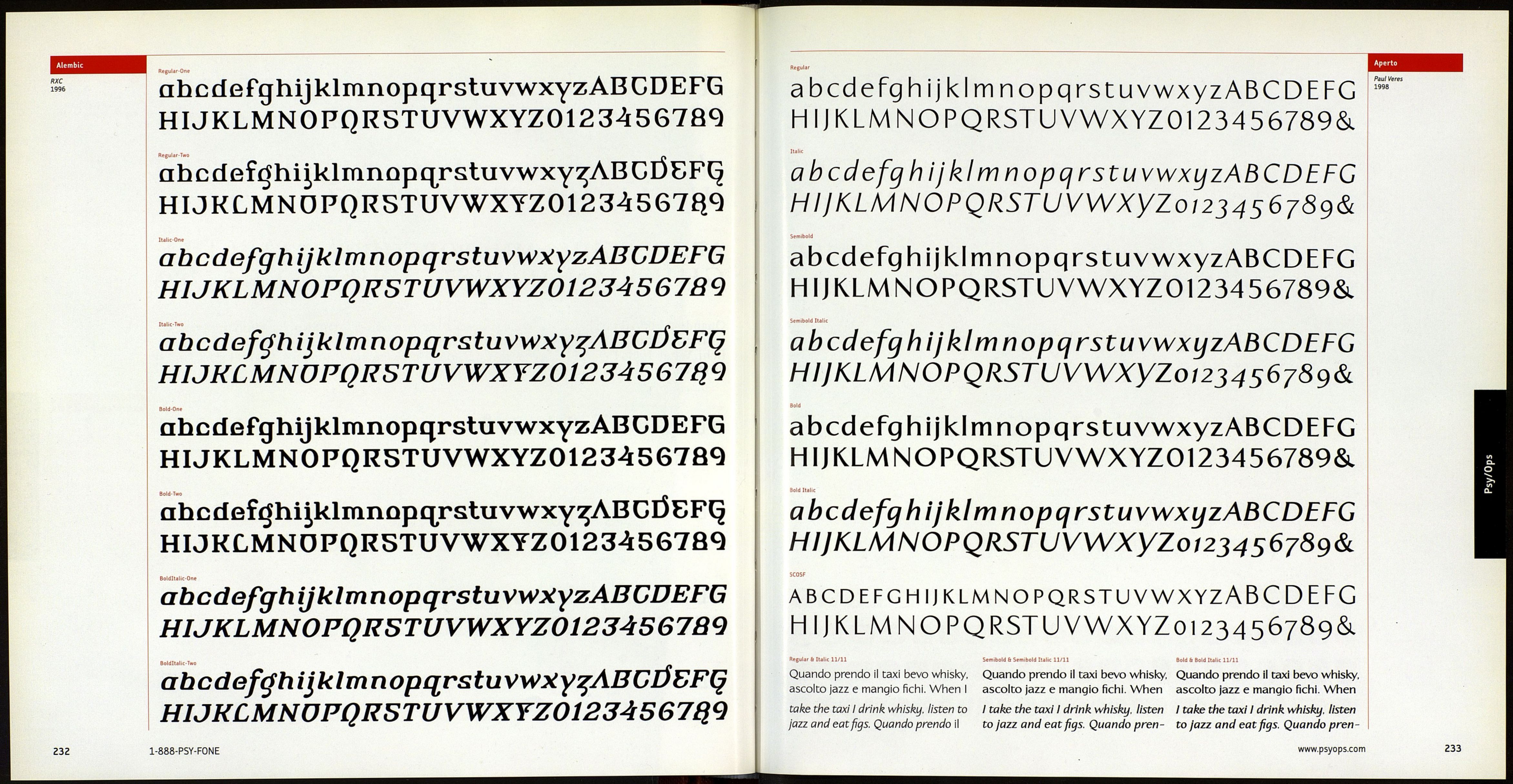 PSY/OPS TYPE FOUNDRY
The concepts originate on the drawingboards
and monitors of historians and experimentalists,
dedicated veterans and inspired laymen. Once
selected, the ideas are refined, balanced, and
perfected by obsessive sets of hands and eyes in
a secluded office in downtown San Francisco.
If you haven't heard of us it's because we've been busy building
faces for other prominent type companies, book publishers, and
communications megaliths. But our passion remains the develop¬
ment of a unique and useful collection of digital typefaces - one
solely intended to make your own design work stand apart.
Try our fonts and discover why top designers &
publishers love our work and come back so often.
©
www.pAyopA.com
togular
abcdefghijklmnopqrstuvwxyzABCDEFG
HIJKLMNOPQRSTUVWXYZ0123456789
Italic
abcdefghijklmnopqrstuvwxgzABCDEFG
HIJKLMNOPQRSTUVWXYZ0123456789
ABCDEFGHJKLMNOPQRSTUVWXYZABCDEF
GHJKLMNOPQRSTUVWXYZ123456789
Lars Bergqutst
2001
Smallcaps 10/11
Quando prendo il taxi bevo Quando prendo iL taxi bevo whisky, Quando prendo il taxi bevo
whisky, ascolto jazz e mangio ascolto jazz e mangio fichi. When I whisky, ascolto iazz e man-
fichi. When I ride the taxi I ride the taxi 1 drmkwhisky, Ostento gio fichi. When I ride the
drink whisky, listen to jazz and jazz and eat figs. Quando prendo il taxi I drink whisky, listen to
abcdefghijklmnopqrstuvwxyzABCDE
FGHIJKLMN0PQRSTUVWXYZ0123456789
Oblique
abcdefghijklmriopqrstuvwxyzABCDE
FGHIJKLMN0PQRSTUVWXYZ0123456789
Sold
abсdefghijklmnopqrstuvwxyzABCDE
FGHIJKLMN0PQRSTUVWXYZ0123456789
Bold Oblique
abcdefghijklmnopqrstuvwxyzABCDE
FGHIJKLMN0PQRSTUVWXYZ0123456789
A winning design in ATypI's Z001
Butva-Яаг! competition.
Rodrigo Xavier Cavazos (RXC)
2000
www.psyops.com
231