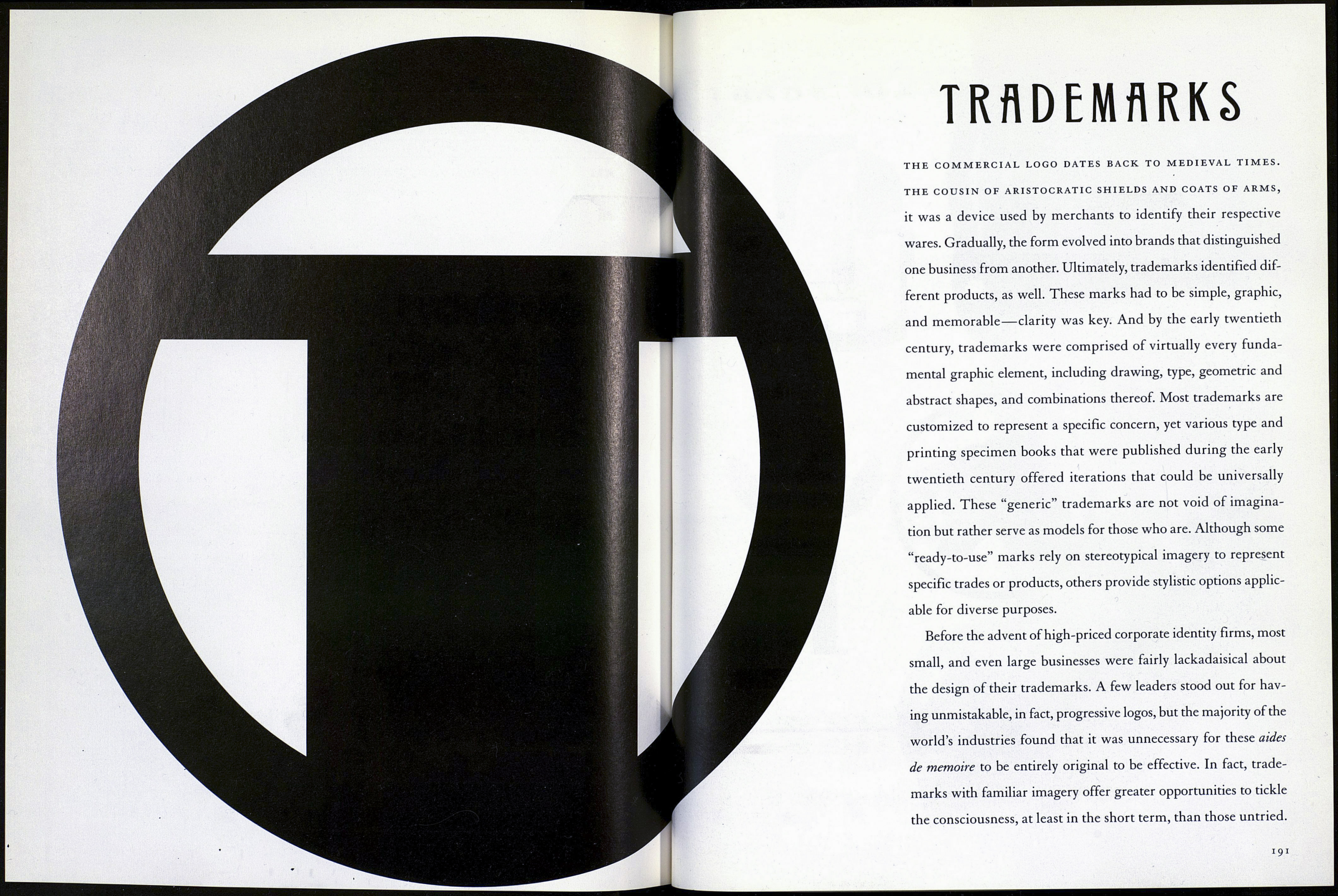 TRADEMARKS
THE COMMERCIAL LOGO DATES BACK TO MEDIEVAL TIMES.
THE COUSIN OF ARISTOCRATIC SHIELDS AND COATS OF ARMS,
it was a device used by merchants to identify their respective
wares. Gradually, the form evolved into brands that distinguished
one business from another. Ultimately, trademarks identified dif¬
ferent products, as well. These marks had to be simple, graphic,
and memorable—clarity was key. And by the early twentieth
century, trademarks were comprised of virtually every funda¬
mental graphic element, including drawing, type, geometric and
abstract shapes, and combinations thereof. Most trademarks are
customized to represent a specific concern, yet various type and
printing specimen books that were published during the early
twentieth century offered iterations that could be universally
applied. These "generic" trademarks are not void of imagina¬
tion but rather serve as models for those who are. Although some
"ready-to-use" marks rely on stereotypical imagery to represent
specific trades or products, others provide stylistic options applic¬
able for diverse purposes.
Before the advent of high-priced corporate identity firms, most
small, and even large businesses were fairly lackadaisical about
the design of their trademarks. A few leaders stood out for hav¬
ing unmistakable, in fact, progressive logos, but the majority of the
world's industries found that it was unnecessary for these aides
de memoire to be entirely original to be effective. In fact, trade¬
marks with familiar imagery offer greater opportunities to tickle
the consciousness, at least in the short term, than those untried.
191