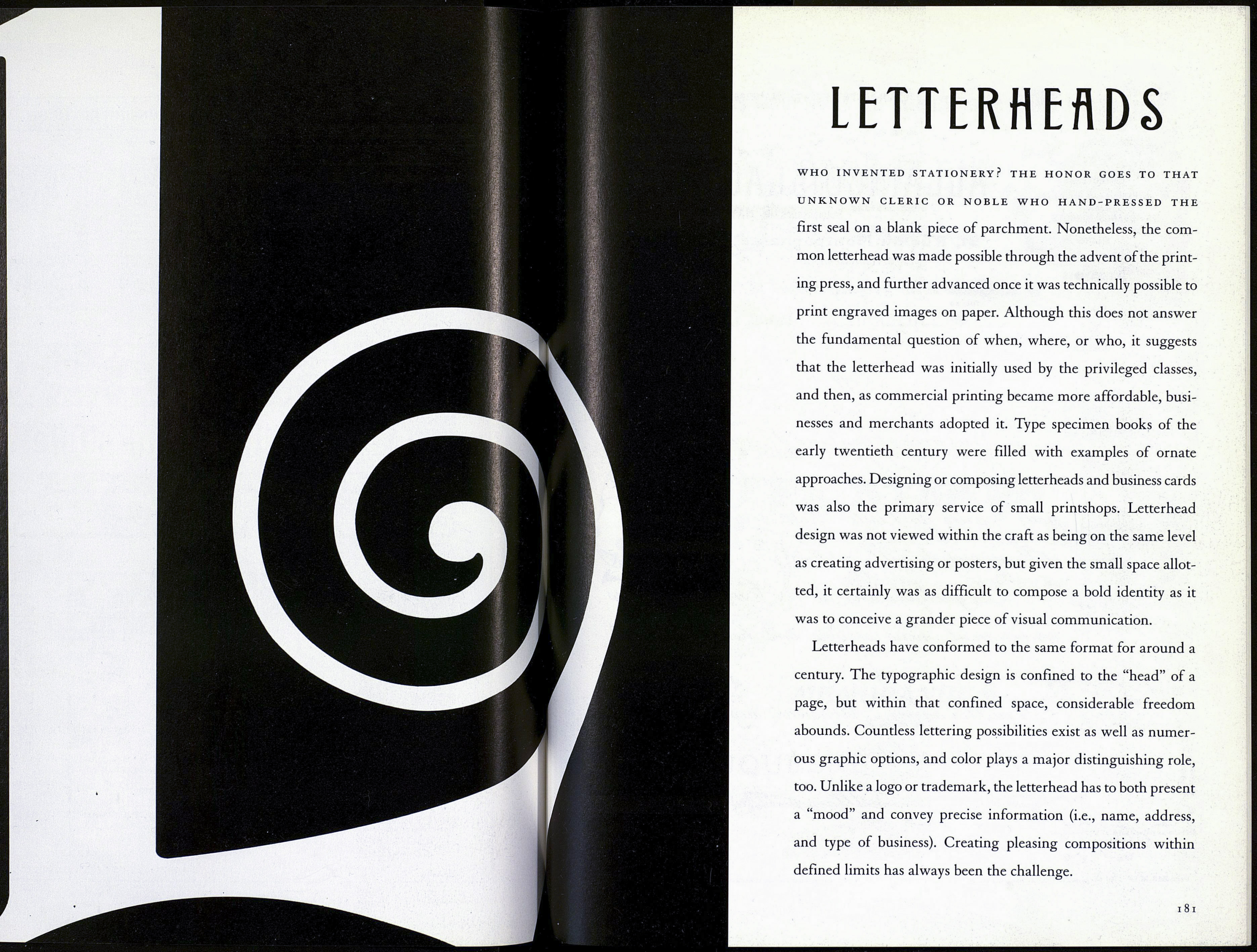 LETTERHEADS
WHO INVENTED STATIONERY? THE HONOR GOES TO THAT
UNKNOWN CLERIC OR NOBLE WHO HAND-PRESSED THE
first seal on a blank piece of parchment. Nonetheless, the com¬
mon letterhead was made possible through the advent of the print¬
ing press, and further advanced once it was technically possible to
print engraved images on paper. Although this does not answer
the fundamental question of when, where, or who, it suggests
that the letterhead was initially used by the privileged classes,
and then, as commercial printing became more affordable, busi¬
nesses and merchants adopted it. Type specimen books of the
early twentieth century were filled with examples of ornate
approaches. Designing or composing letterheads and business cards
was also the primary service of small printshops. Letterhead
design was not viewed within the craft as being on the same level
as creating advertising or posters, but given the small space allot¬
ted, it certainly was as difficult to compose a bold identity as it
was to conceive a grander piece of visual communication.
Letterheads have conformed to the same format for around a
century. The typographic design is confined to the "head" of a
page, but within that confined space, considerable freedom
abounds. Countless lettering possibilities exist as well as numer¬
ous graphic options, and color plays a major distinguishing role,
too. Unlike a logo or trademark, the letterhead has to both present
a "mood" and convey precise information (i.e., name, address,
and type of business). Creating pleasing compositions within
defined limits has always been the challenge.