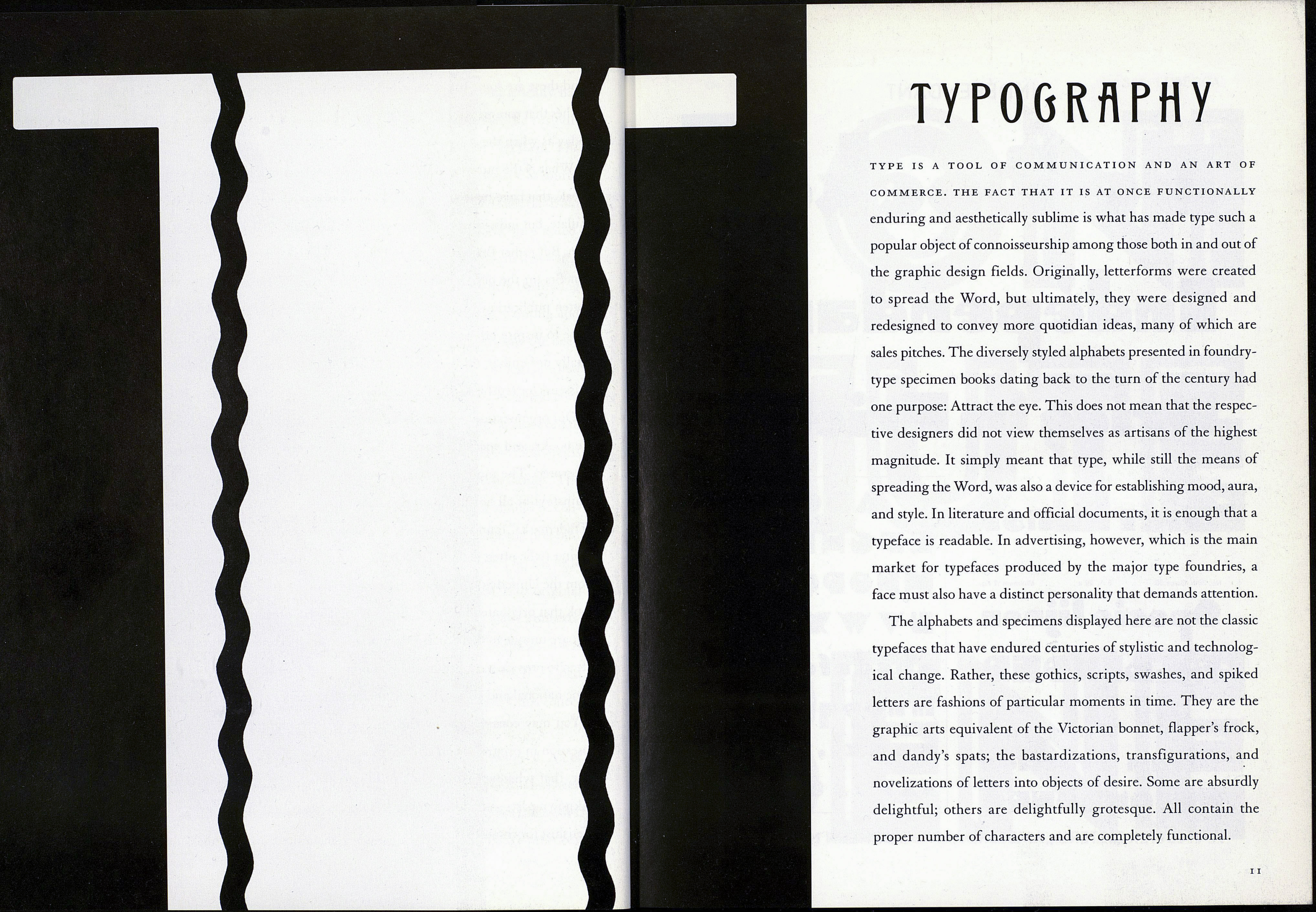 TYPOGRAPHY
TYPE IS A TOOL OF COMMUNICATION AND AN ART OF
COMMERCE. THE FACT THAT IT IS AT ONCE FUNCTIONALLY
enduring and aesthetically sublime is what has made type such a
popular object of connoisseurship among those both in and out of
the graphic design fields. Originally, letterforms were created
to spread the Word, but ultimately, they were designed and
redesigned to convey more quotidian ideas, many of which are
sales pitches. The diversely styled alphabets presented in foundry-
type specimen books dating back to the turn of the century had
one purpose: Attract the eye. This does not mean that the respec¬
tive designers did not view themselves as artisans of the highest
magnitude. It simply meant that type, while still the means of
spreading the Word, was also a device for establishing mood, aura,
and style. In literature and official documents, it is enough that a
typeface is readable. In advertising, however, which is the main
market for typefaces produced by the major type foundries, a
face must also have a distinct personality that demands attention.
The alphabets and specimens displayed here are not the classic
typefaces that have endured centuries of stylistic and technolog¬
ical change. Rather, these gothics, scripts, swashes, and spiked
letters are fashions of particular moments in time. They are the
graphic arts equivalent of the Victorian bonnet, flapper's frock,
and dandy's spats; the bastardizations, transfigurations, and
novelizations of letters into objects of desire. Some are absurdly
delightful; others are delightfully grotesque. All contain the
proper number of characters and are completely functional.
I I