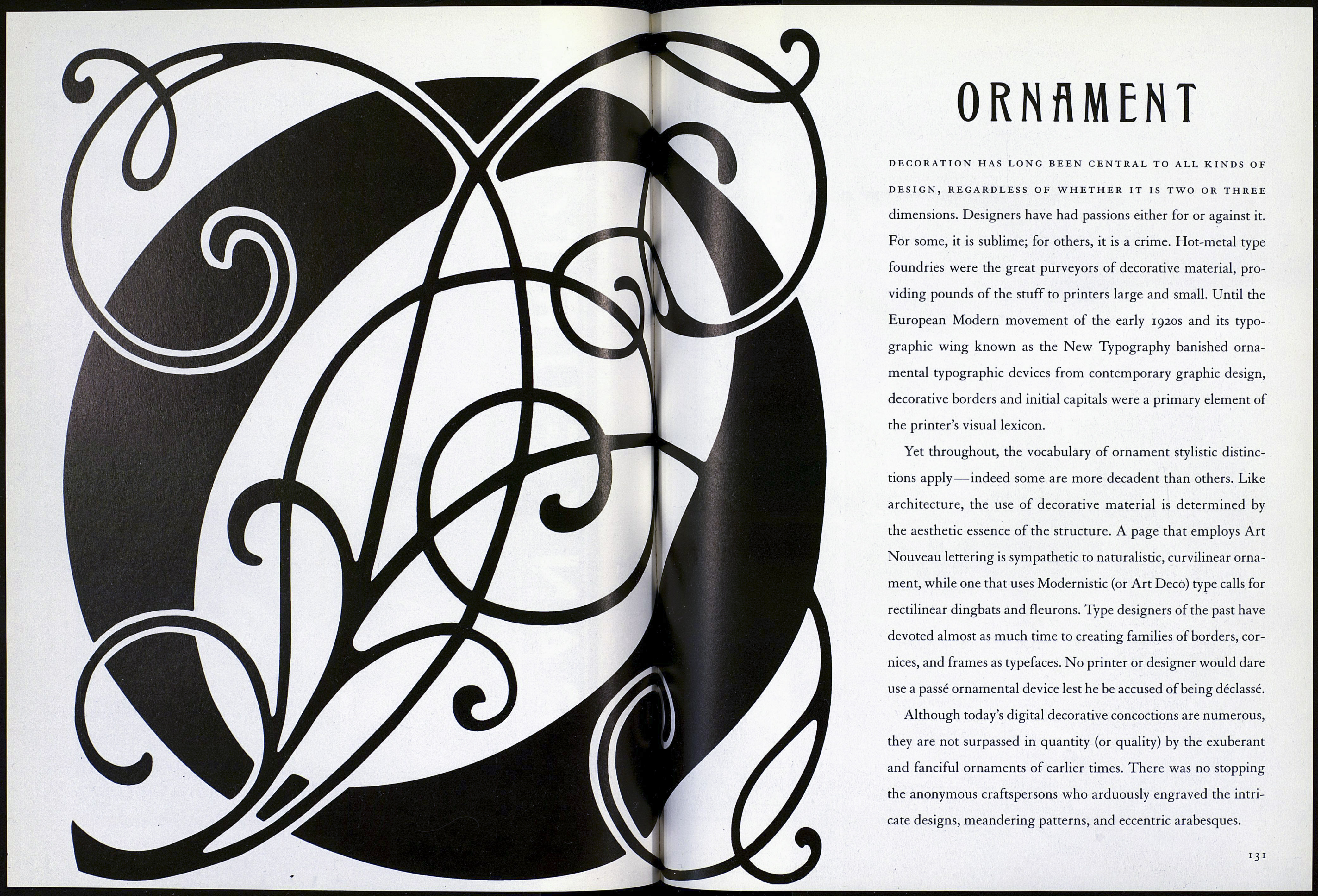 ORNAMENT
DECORATION HAS LONG BEEN CENTRAL TO ALL KINDS OF
DESIGN, REGARDLESS OF WHETHER IT IS TWO OR THREE
dimensions. Designers have had passions either for or against it.
For some, it is sublime; for others, it is a crime. Hot-metal type
foundries were the great purveyors of decorative material, pro¬
viding pounds of the stuff to printers large and small. Until the
European Modern movement of the early 1920s and its typo¬
graphic wing known as the New Typography banished orna¬
mental typographic devices from contemporary graphic design,
decorative borders and initial capitals were a primary element of
the printer's visual lexicon.
Yet throughout, the vocabulary of ornament stylistic distinc¬
tions apply—indeed some are more decadent than others. Like
architecture, the use of decorative material is determined by
the aesthetic essence of the structure. A page that employs Art
Nouveau lettering is sympathetic to naturalistic, curvilinear orna¬
ment, while one that uses Modernistic (or Art Deco) type calls for
rectilinear dingbats and fleurons. Type designers of the past have
devoted almost as much time to creating families of borders, cor¬
nices, and frames as typefaces. No printer or designer would dare
use a passé ornamental device lest he be accused of being déclassé.
Although today's digital decorative concoctions are numerous,
they are not surpassed in quantity (or quality) by the exuberant
and fanciful ornaments of earlier times. There was no stopping
the anonymous craftspersons who arduously engraved the intri¬
cate designs, meandering patterns, and eccentric arabesques.
131