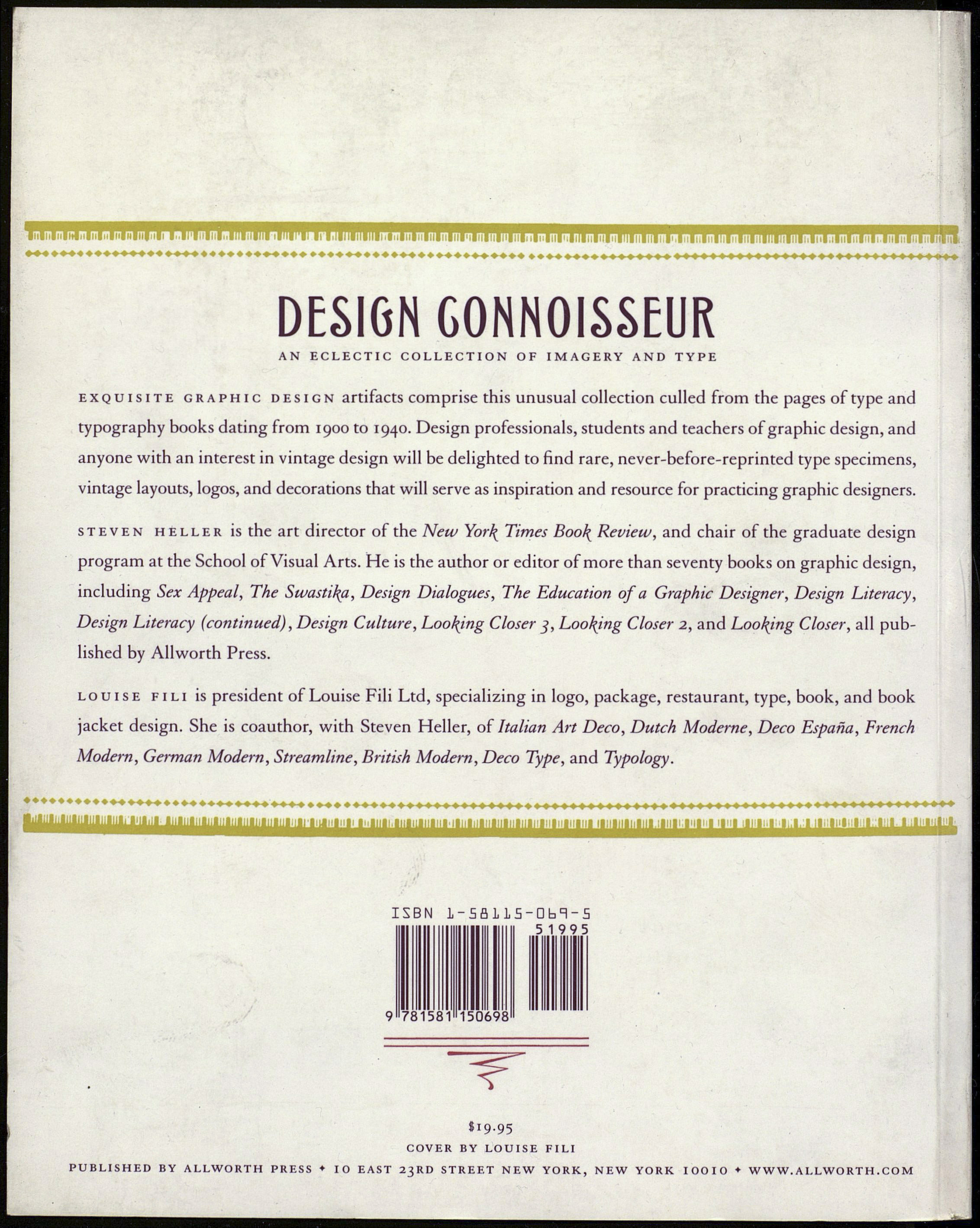 Ululili.
DESIGN GONNOISSEUR
AN ECLECTIC COLLECTION OF IMAGERY AND TYPE
exquisite graphic design artifacts comprise this unusual collection culled from the pages of type and
typography books dating from 1900 to 1940. Design professionals, students and teachers of graphic design, and
anyone with an interest in vintage design will be delighted to find rare, never-before-reprinted type specimens,
vintage layouts, logos, and decorations that will serve as inspiration and resource for practicing graphic designers.
Steven heller is the art director of the New York Times Book Review, and chair of the graduate design
program at the School of Visual Arts. He is the author or editor of more than seventy books on graphic design,
including Sex Appeal, The Swastika, Design Dialogues, The Education of a Graphic Designer, Design Literacy,
Design Literacy (continued), Design Culture, Looking Closer 3, Looking Closer 2, and Looking Closer, all pub¬
lished by Allworth Press.
Louise fili is president of Louise Fili Ltd, specializing in logo, package, restaurant, type, book, and book
jacket design. She is coauthor, with Steven Heller, of Italian Art Deco, Dutch Moderne, Deco España, French
Modern, German Modern, Streamline, British Modern, Deco Type, and Typology.
■iIIUIiillllilllillillllnill.il. liH|HlHiillHiHlnlilimmnr«mm
inumili Hill |||H|||ÌJ||.I.:| HiHli|nli!l.:llll »,ninnili;
ISBN l-SflllS-übB-S
9 781581 50698
Sip.95
COVER BY LOUISE FILI
PUBLISHED BY ALLWORTH PRESS ♦ 10 EAST 23RD STREET NEW YORK, NEW YORK IOOIO ♦ WWW.ALLWORTH.COM