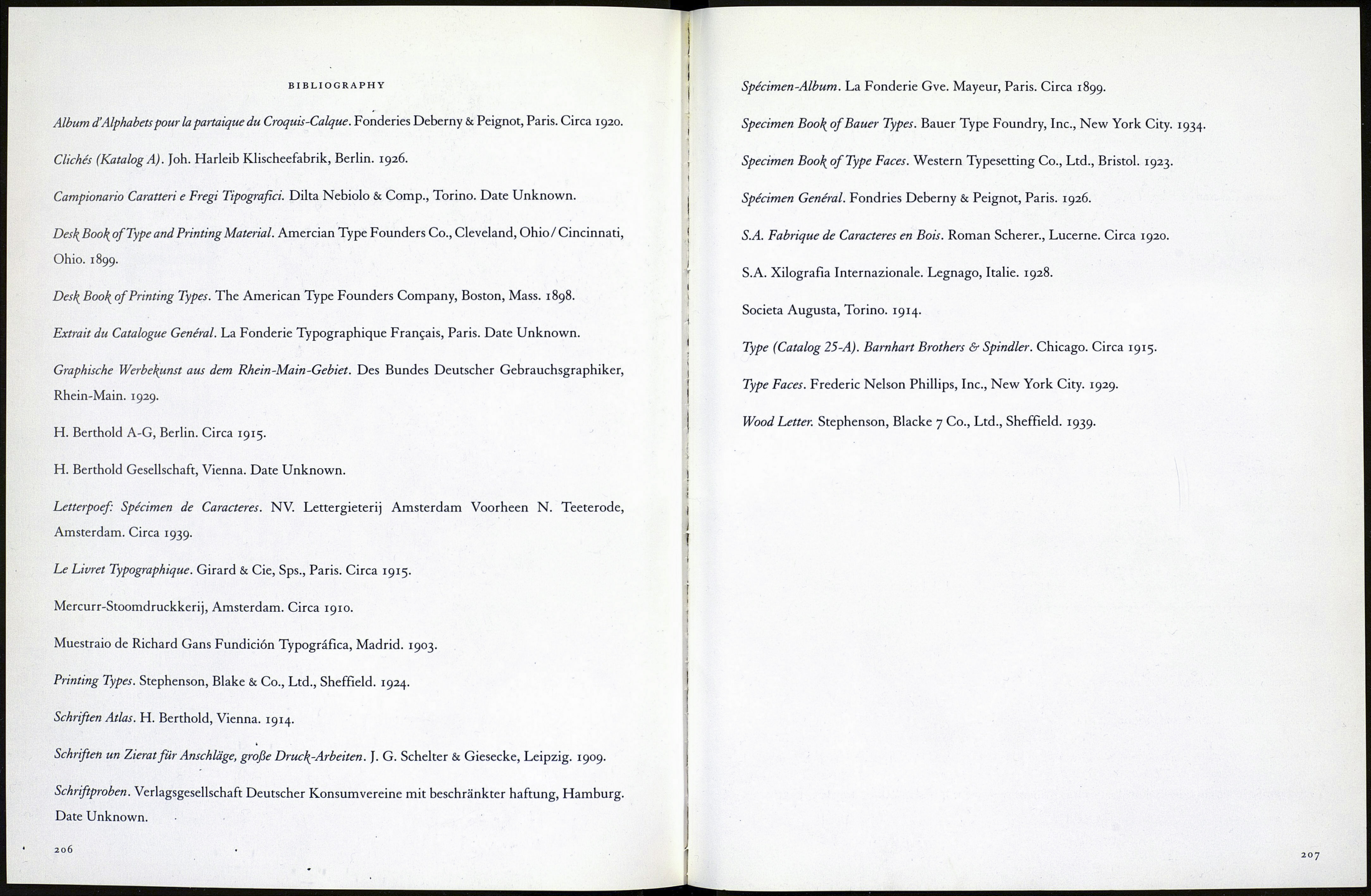 BIBLIOGRAPHY
Album d'Alphabets pour la partaique du Croquis-Calque. Fonderies Deberny & Peignot, Paris. Circa 1920.
Clichés (Katalog A). Joh. Harleib Klischeefabrik, Berlin. 1926.
Campionario Caratteri e Fregi Tipografici. Dilta Nebiolo & Сотр., Torino. Date Unknown.
Des\Boo\of Type and Printing Material. Amercian Type Founders Co., Cleveland, Ohio/Cincinnati,
Ohio. 1899.
Desk Book of Printing Types. The American Type Founders Company, Boston, Mass. 1898.
Extrait du Catalogue Général. La Fonderie Typographique Français, Paris. Date Unknown.
Graphische Werbekunst aus dem Rhein-Main-Gebiet. Des Bundes Deutscher Gebrauchsgraphiker,
Rhein-Main. 1929.
H. Berthold А-G, Berlin. Circa 1915.
H. Berthold Gesellschaft, Vienna. Date Unknown.
Letterpoef: Spécimen de Caracteres. NV. Lettergieterij Amsterdam Voorheen N. Teeterode,
Amsterdam. Circa 1939.
Le Livret Typographique. Girard & Cie, Sps., Paris. Circa 1915.
Mercurr-Stoomdruckkerij, Amsterdam. Circa 1910.
Muestraio de Richard Gans Fundición Typográfica, Madrid. 1903.
Printing Types. Stephenson, Blake & Co., Ltd., Sheffield. 1924.
Schriften Atlas. H. Berthold, Vienna. 1914.
Schriften un Zierat für Anschläge, große Druck-Arbeiten. }. G. Scheiter & Giesecke, Leipzig. 1909.
Schriftproben. Verlagsgesellschaft Deutscher Konsumvereine mit beschränkter haftung, Hamburg.
Date Unknown.
206
Spécimen-Album. La Fonderie Gve. Mayeur, Paris. Circa 1899.
Specimen Book of Bauer Types. Bauer Type Foundry, Inc., New York City. 1934.
Specimen Boo\ofType Faces. Western Typesetting Co., Ltd., Bristol. 1923.
Spécimen Général. Fondries Deberny & Peignot, Paris. 1926.
S.A. Fabrique de Caracteres en Bois. Roman Scherer., Lucerne. Circa 1920.
S.A. Xilografia Internazionale. Legnago, Italie. 1928.
Società Augusta, Torino. 1914.
Type (Catalog 25-A). Barnhart Brothers & Spindler. Chicago. Circa 1915.
Type Faces. Frederic Nelson Phillips, Inc., New York City. 1929.
Wood Letter. Stephenson, Blacke 7 Co., Ltd., Sheffield. 1939.