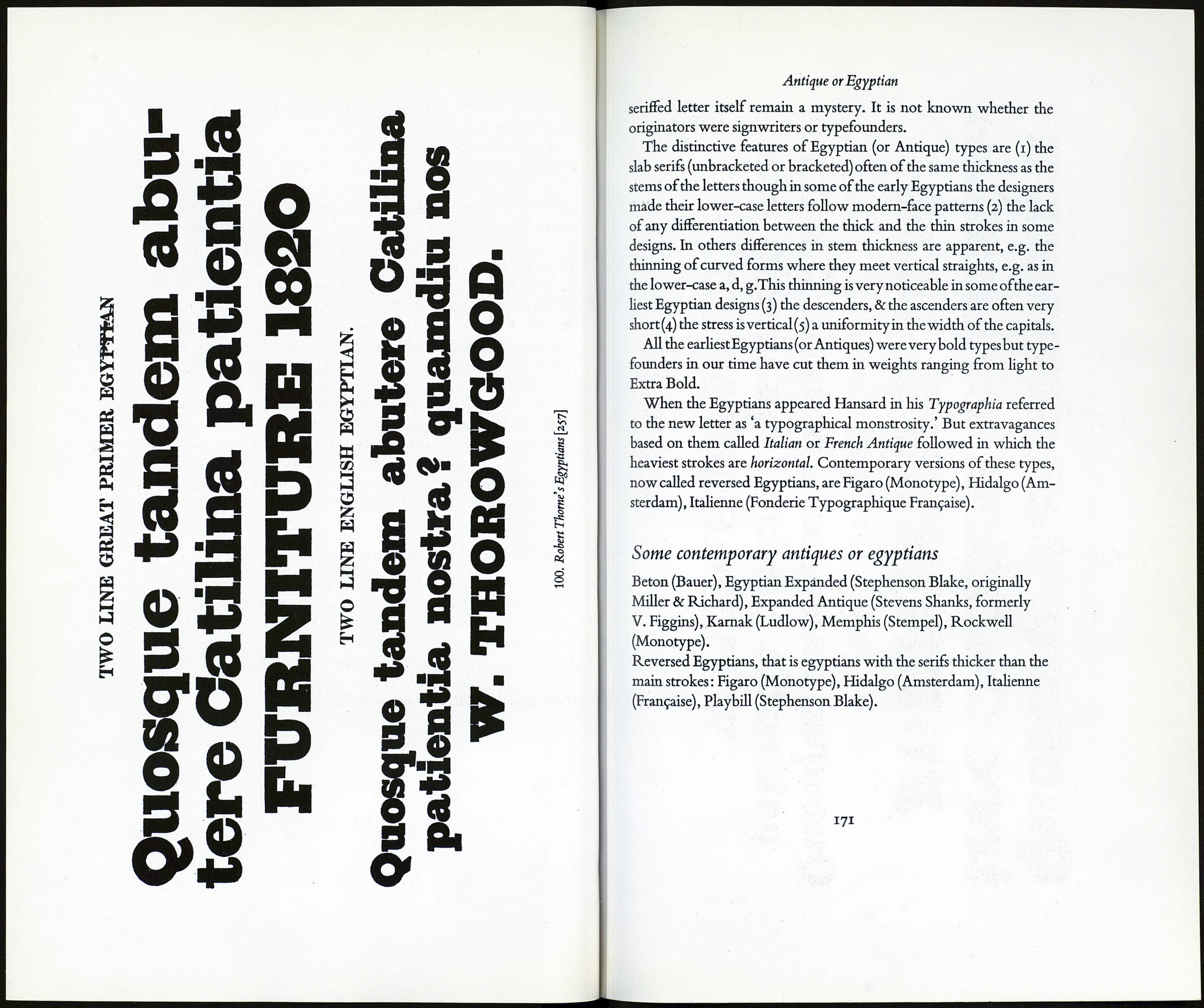 •9%
ta
И
«О
H
о
Z
ч
s
z
<
л
•<
«
Ou
H
s s*
s
a
i—i
H
z
<
H
>
H
a
о
О
И
H
H
Й
h
.13
si
»ANTIQUE
OR EGYPTIAN
The types which we knowby the name oíEgyptian were first shown by
Vincent Figgins inhis specimen book of 1815, under the name Antique,1
but at least one historian of the day (Hansard) gave Robert Thorne the
credit for designing them. Contemporary writers cannot agree on the
name of the innovator of Egyptian types, but Thorne, who before his
death in 1820 had actually cut several sizes and had set up specimens
of them, named them Egyptian in the title lines to those specimens.
William Thorowgood (neither founder nor printer), who as we have
already noted purchased Thome's foundry in 1820, used these settings
of Thome's and in them we probably have the first use of the name
Egyptian for types of this kind.
Exacdy why the term Egyptian was used has been the subject of
much conjecture.2 The most reasonable explanation for the coining of
the name seems to He in the heightened interest in the early nineteenth
century for all things Egyptian, occasioned by Napoleon's expedition
to that country.While this seems to be a perfectly valid reason for first
using the name, the whys and wherefores of the invention of the slab-
'Today the term remains an alternative name for Egyptian faces.
'"These characters were often called in type-specimens and elsewhere "Egyptian" (no
doubt in allusion to their "darkness") ; and a London jest-book of 1806, under the head¬
ing "Fashionable Egyptian Sign-Boards," says : "An Irishman describing the Egyptian
letters which at present deface the Metropolis, declared that the thin strokes were exactly
the same size as the thick ones !" " D. B.Updike.Printing Types, Their History, Forms, and
Use. Vol П.
169