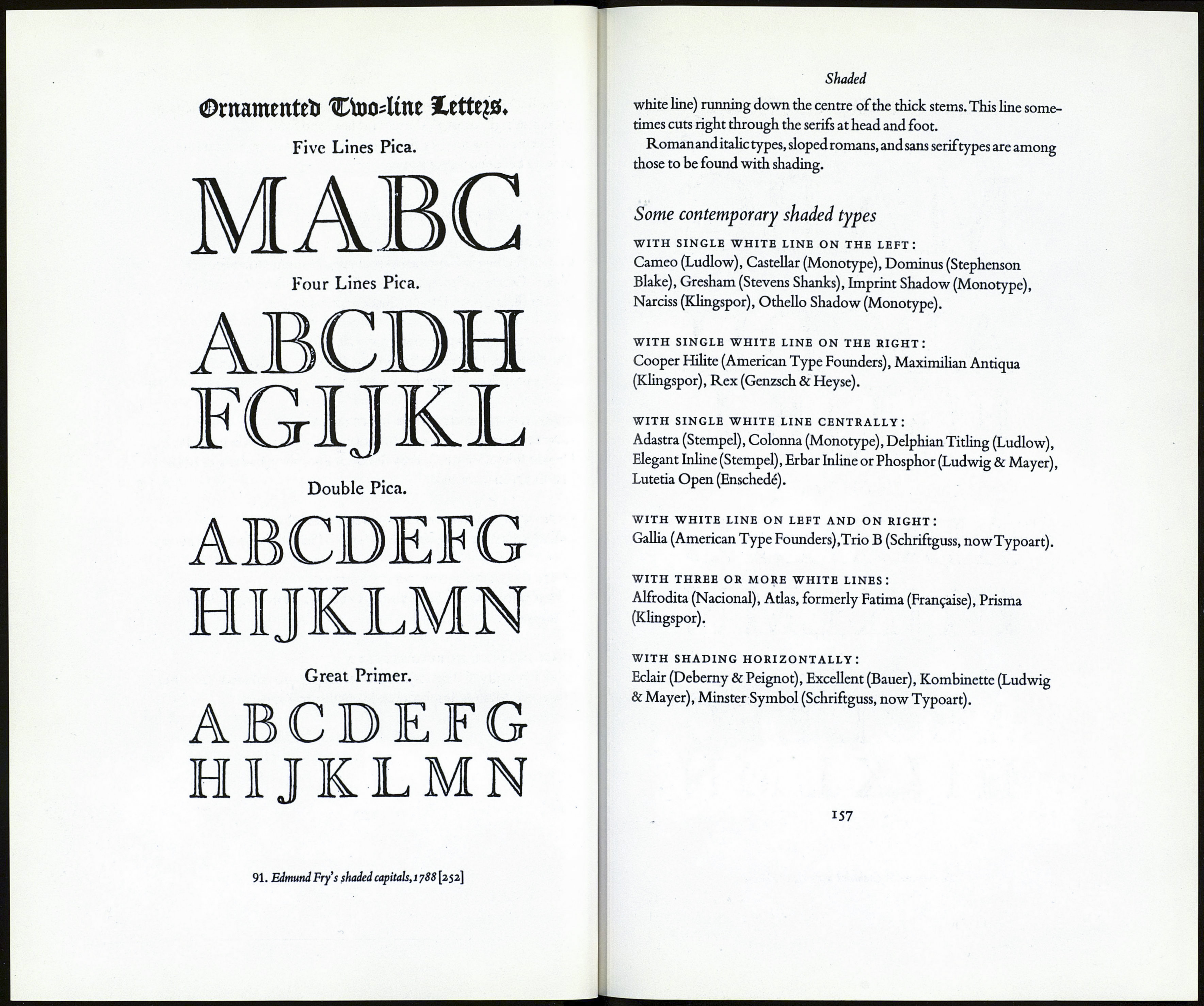 DE DEUX POINTS. Çl
de Gros-parangon.
MFN
LPR
de Petit-canon.
NUI
YJR
90. Foumier le jeune's shaded types [252]
SHADED
We have already noted that Fournier, pioneer in cutting decorated let¬
ters in typography, produced the first shaded types also and showed
several sizes in his Manuel of 1764-1766.
Later, when advertising faces were cut these were equipped with
shaded versions but'the earlier shaded letters fell out of use as decorative
material for bookwork'1 and seem rarely to have been used for the next
hundred years.
The simplest form of shaded type is one in which a single white line
runs down either the left or the right (but more usually the left) of the
thick strokes.Types of this kind are still called hand-tooled, the term
originating perhaps in the compositor's efforts to tool white lines on
display types, i.e. on actual metal sorts.The best of these shaded types
may be used with distinction in bookwork and, of course, in many
kinds of ephemeral printing. But there are others, designed for use in
jobbing printing in which the shading is (a) on the left and on the right
of the same stem (b) formed by three or more white lines running par¬
allel with the sides of the thick strokes and (c) formed by horizontal white
lines.
There is yet another form of shaded type probably owing its birth to
the shaded letters of the early nineteenth century which in the past has
been grouped under the name Inline. Present day examples vary in their
basic design, some being normally serifFed romans and italics and others
sans serifs. All have one thing in common—a white line (often a fine
'A.F.Johnson, a guide то PRBSBNT-DAY types.PaperiwdfVwf.Summer 1933.
155