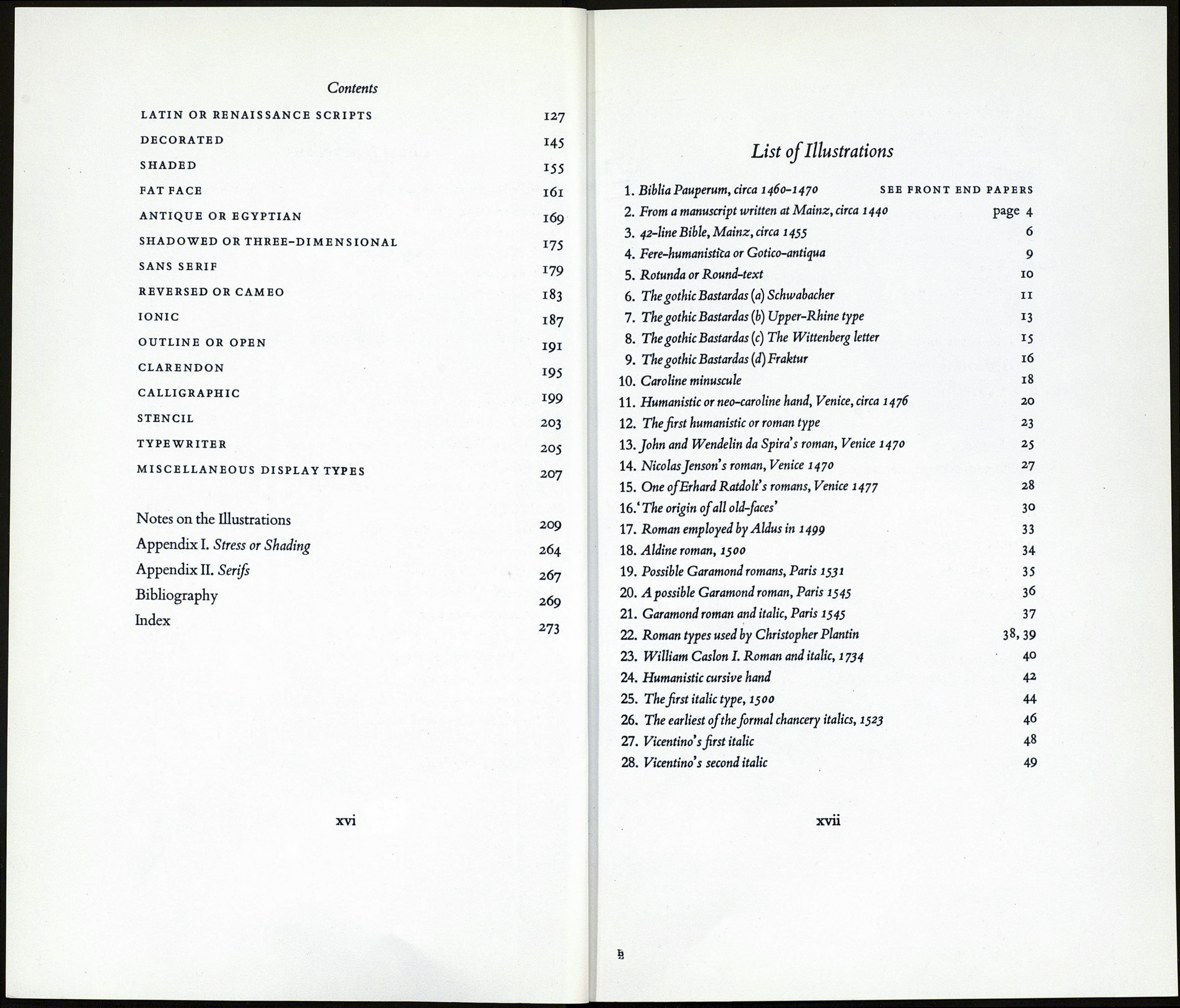 Preface
The illustrations are, subject to the groupings, to the availability of
particular examples, & to the exigencies of make-up, arranged chrono¬
logically also.They are printed, within photographic limits, in facsimile,
size precluding such a course only rarely. Although the decision to print
in facsimile meant that page margins would have to be sacrificed Sc only
part of a page could be shown on quite a number of occasions these
courses seemed preferable to reducing the size of a very large number of
the specimens considerably .The method of reproduction, line engrav¬
ing, leaves much to be desired. We rejected fine screen halftone because
it would have meant, with the make-up envisaged, printing the сопіт
píete book on coated paper. Collotype, the ideal process, was precluded
on the score of cost. Lithography, the next choice, & preferable to both
line engraving or halftone, was not available at the Press when this book
was printed.
The number in brackets following the title of an illustration refers
to the page on which a descriptive note on that example appears, while
the number in brackets at the end of each descriptive note is that of the
page on which the illustration referred to will be found. The text of this
book has been deliberately condensed : the notes on the illustrations will
enlarge and reinforce it.
Within each group will be found a short list of contemporary ex¬
amples where these have been cut.That some of the types named are no
longer available, that is, are not being cast—either through lack of de¬
mand or because the foundries which produced them have ceased to ex¬
ist or have been taken over by other foundries—does not invalidate them
in the least as examples: founders' or printers' specimens or other repro¬
ductions of these 'lost' faces are available to the student for reference.
From the very large range of alphabetic type specimens issued in re¬
cent years by trade typesetting houses, by typefounders, & by printers,
readers may build up their own collections for the purposes of identifi¬
cation and of study.
G.D
February 1961
XIV
Contents
Acknowledgements
Preface
List oflllustrations
Introduction
page ix
xiii
xvii
xxi
PART I
THE BOOKTYPES
Introductory Note
GOTHIC OR BLACK-LETTER
ROMAN, VENETIAN
ROMAN, OLD FACE
THE ITALICS
The Aldine
The Vicentino
The Group which is the contemporary oj old-face roman
THE INTERMEDIATE OR TRANSITIONAL ROMANS
THE MODERN-FACE ROMANS
The Modernized Italics
OLD STYLE
TWENTIETH-CENTURY TYPES
3
5
19
31
43
43
45
53
59
75
87
97
101
PART II
THE DISPLAY TYPES
Introductory Note
GOTHIC SCRIPTS
109
ИЗ
XV