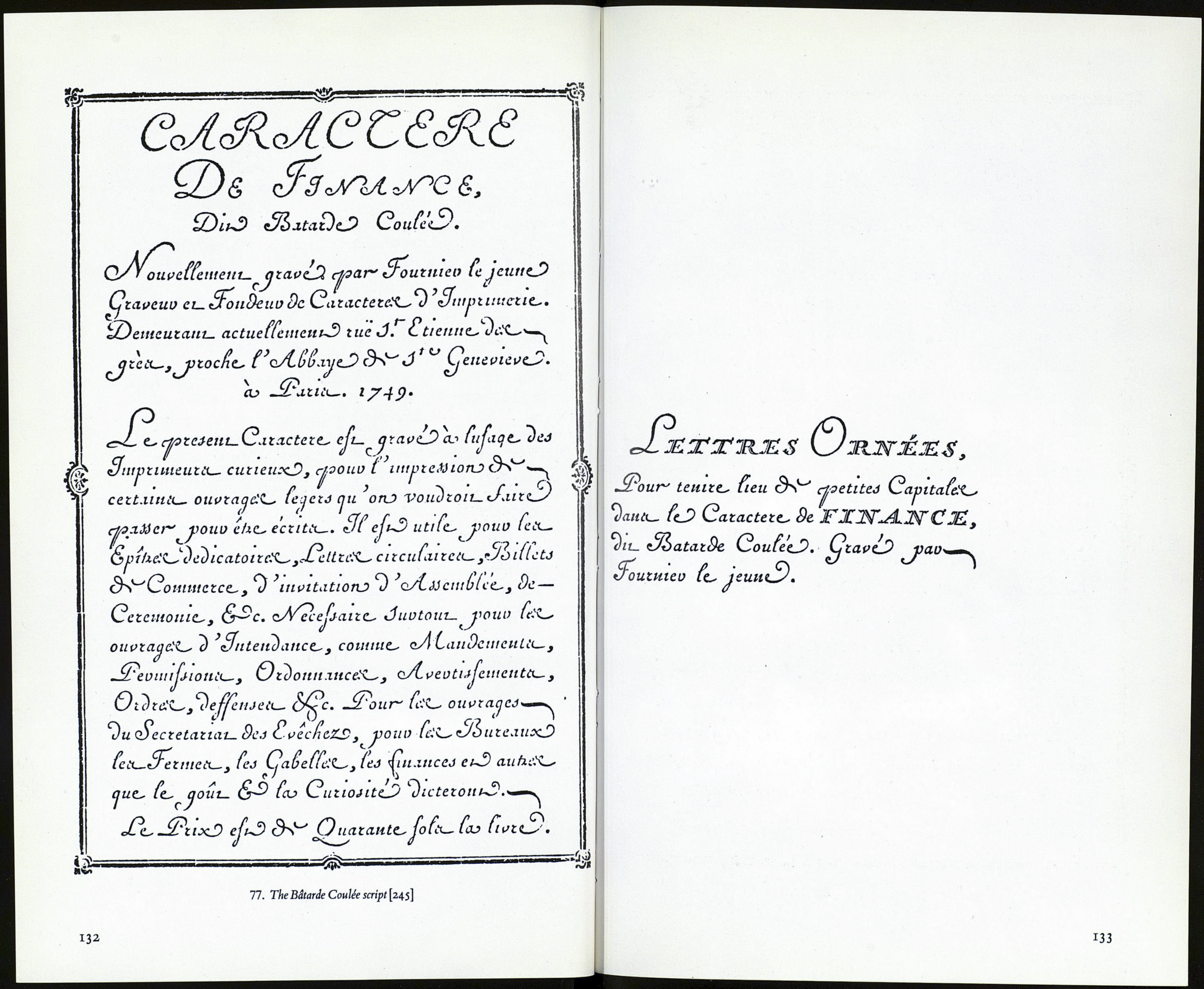 І «3
«
à
^
I
Lafm or Renaissance Scripts
In England, Mr Johnson writes that'after the cutting of the Grover
cursorials, there is a long gap in the history of scripts. Neither William
Caslon I, nor his son, nor Baskerville designed anything in this class.'1
But Thomas Cottrell, a pupil of William Caslon, started his own foun¬
dry in 1757 and cut a script in which he tried to produce the effect of
writing by fitting his letters closely together. Cottrell's type was copied
by the other founders in this country. Of all these types Mr Johnson says
that they'still had considerable traces of the true Italian hand.'2 On the
Continent Cottrell's imitators (the Didots and other founders) called
it Anglaise.
Scripts of this class were eventually influenced by the'modern'cult
in type design, i.e. there was a greater differentiation in modelling, or
the gradation from thick to thin, and, Mr Johnson remarks 'increased
ingenuity in imitating a current round hand.Then we get the typical
Anglaise, admired & copied by the Didots, the script of the nineteenth
century.'îHe states that scripts of the Cottrell class 'were the last good
scripts until we reach the work of the present generation ; they perished
at the same time as italic, with the introduction of the modem face.'4
Writing in the Spring of 1934 on script types Mr Johnson said that
'For good modern scripts, we have to go to German founders. Among
the large number of "Roundhands", "Freehands", and fancy scripts
shown by our founders, all are bad.'* Though the position here has im¬
proved a little in the intervening twenty-five years it is still a fact that
if one wants a spirited script the chances are that one's final choice will
be a letter from one of the Continental foundries. In this group the num¬
ber of types is so great that the choice of representative specimens is not
an easy one.
12 3 «In Type Designs: their History and Development.
'In a guide то present-day types. Paper and Print. Spring 1934.
131