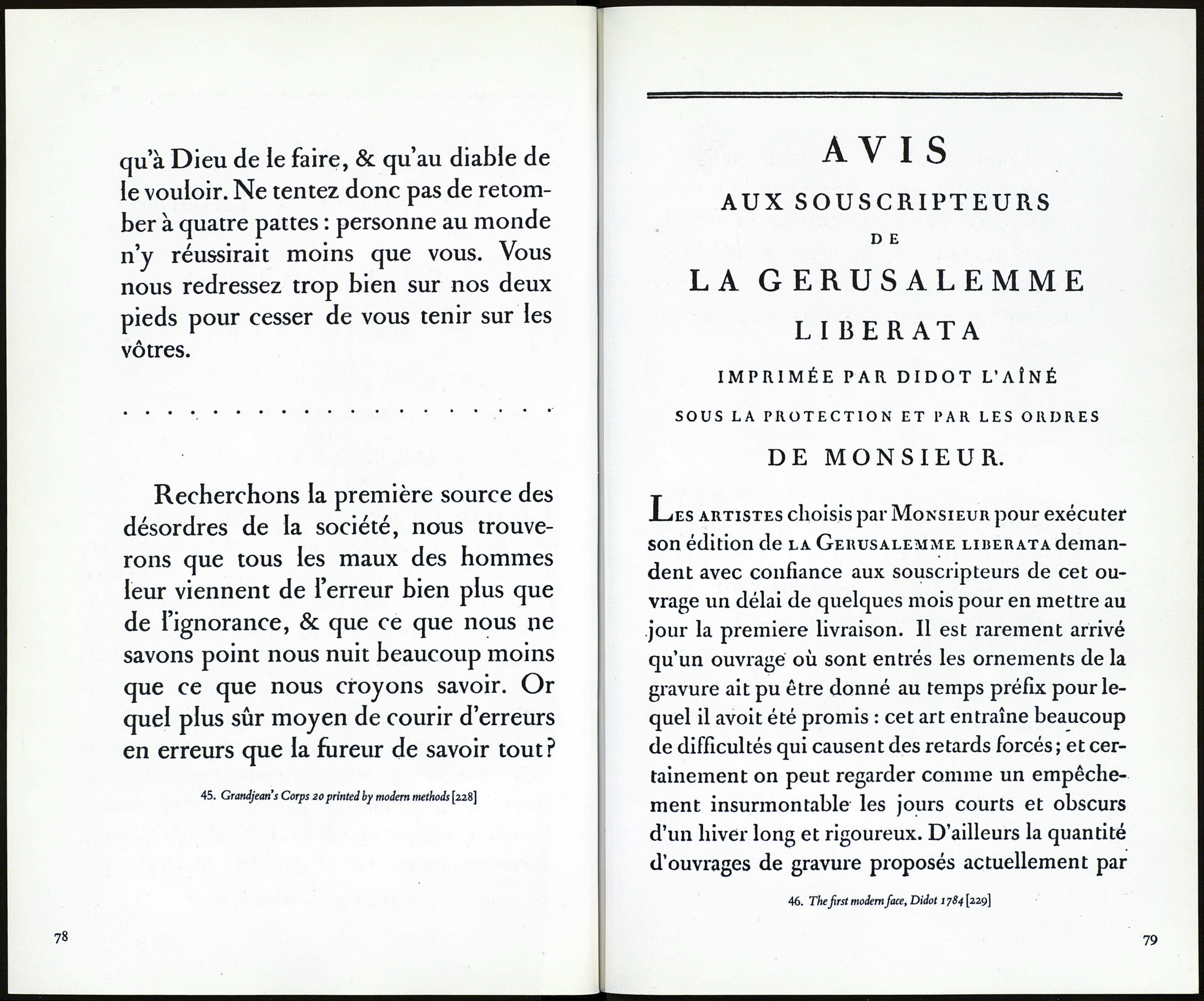 AN INTRODUCTION TO THE HISTORY OF PRINTING TYPES
papers invented later in the century to do it justice. Examples of his
types printed by twentieth century methods will be found on pages
77,78.They show clearly how far Grandjean's design had advanced to¬
wards the modern face.
Other typefounders copied the types of Baskerville and Fournier.
'Baskerville was well-known on the Continent, and is generally said to
have had much influence on Didot and Bodoni.'1 But it was not until
1784 that the first modern face appeared. Cut in the typefoundry of
F. A. Didot, of the famous family of Parisian founders and printers, it
was used in a prospectus announcing a work of Tasso's.This book was
to be printed on an improved press introduced by F. A. Didot, and on
wove paper, then being manufactured in France for the first time. Both
the improved press and the wove paper gave the sharper impression
necessary for the modern faces which the Didots introduced, & which
they proceeded to cut with ever increasing degrees of modelling—the
thin strokes finally becoming hairlines.'The full flower of the Didot
modern face can be seen in the Virgil of 1798.'2
Though these over-modelled types were criticized strongly by some
of Didot's own countrymen they set a style which became popular all
over Europe : modern face is still largely used in France today. By 1787
the famous printer Bodoni of Parma had copied Didot's early modern
faces, (see the example, p.82) & the German founder, J. E.Walbaum, &
other European founders followed suit. England was introduced to the
new style by Robert Thorne in 1800.
Characteristics of modern-face roman
STRESS OR SHADING
Vertical, i.e. thickest parts of curved forms East/West.
MODELLING,OR GRADATION FROM THICK TO THIN STROKES
Abrupt and exaggerated, that is, great contrast between thick and
thin strokes.
12A. F.Johnson. Type Designs: their History and Development.
76
The Modern-face romans
serifs(feet)
Flat and unbracketed.
OTHER DISTINGUISHING FEATURES
The uniform width of the capitals in some designs combined with
the features noted above make the modern faces rigid and mechanical
looking.
Some contemporary modern-face romans
Bodoni (many founders), Firmin Didot (Deberny & Peignot),
Walbaum (Berthold and Monotype).
loteries, l'imprimerie qui était établie près l'administration de
ces dernières fut transformée en imprimerie des administrations
nationales & chargée des publications du Ministère de l'inté¬
rieur, de la Trésorerie nationale & des diverses administrations
publiques.
Sur ces entrefaites, Anisson, directeur de l'imprimerie na¬
tionale executive, c'est-à-dire de l'atelier du Louvre, fut arrêté
comme conspirateur & jeté en prison. Il proposa au Gouver¬
nement de lui céder le matériel typographique qui était sa
propriété particulière tant à l'Imprimerie du Louvre que dans
ses succursales. Le Comité de salut public accepta, & l'on
procéda immédiatement à l'inventaire des ateliers en question.
Anisson ayant été condamné à mort Se exécuté, l'Imprimerie
du Louvre fut exploitée pour le compte de l'Etat. Ensuite le
matériel qui la constituait fut, pour la majeure partie, trans¬
porté à l'Imprimerie des lois installée en haut du faubourg
Saint-Honoré, dans la maison de l'ancien fermier général
Beaujon.
44. Grandjean's type printed by 20th century methods [228]