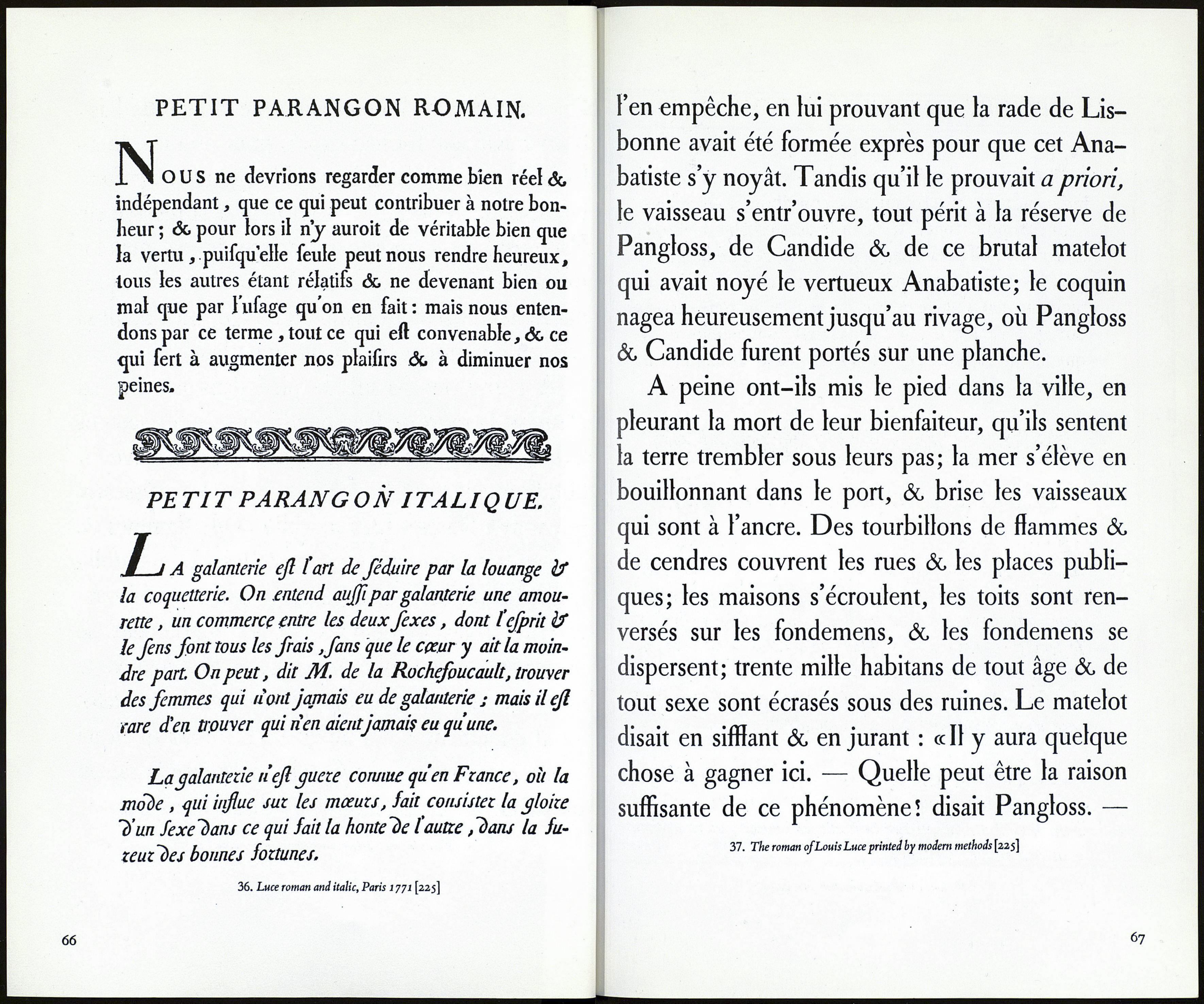 AN INTRODUCTION TO THE HISTORY OF PRINTING TYPBS
tion of the line of writing—thus producing in the round letter forms
the characteristic NE/S W shading that we recognize in old-face types.
(For a note on the examples of this writing shown below, see p. 263.)
turfewècmitl
bamboo
But in executing the new hand the writing masters held their pens ver¬
tically or almost vertically, that is, at right-angles or almost at right-
angles to the direction of the line of writing. In the new letters the ver¬
tical strokes were thickest and the horizontal ones thinnest.The works
of the writing masters of the day, published in books printed from en¬
graved copper plates (of which George Shelley's AIphabets in all Hands,
circa 1715.a page fromwhich is shown in our examples.is one of many),
helped to give the new hand a wide advertisement & accustom people
toit.
But no typefounder thought of adopting the new style of letter until
the Birmingham lacquer manufacturer, John Baskerville (1706-1775),
who in his earlier years had been a writing master, became interested
in the art of letter founding.'Baskerville was only the first to admit in¬
to the typefoundry a letter which had been clamouring outside its door
for at least half a century.This, then, was what we owe to Baskerville:
that at a time when abstract rules still were applied to works of beauty
... he was sensible enough to base his design on the living pen-form
which will always remain as a check and inspiration to typefounders'.1
Baskerville not only enriched the art of typography with his types—
which to the readers of his day were over-brilliant, glittering and thus
tiring to the eyes—but built new improved presses and produced im¬
proved inks and paper—all of which enabled him to print his type with
lThe Monotype Recorder. Vol XXVI.No 221. September-October 1927.
64
The Intermediate or Transitional romans
the care that it demanded. And although Baskerville's founts 'never
had much vogue in England, they did have an enormous influence on
the later development of English type-forms, and on the type-forms of
Europe.'1
Baskerville's types, and those of other founders which were based on
them, for example, Alexander Wilson's romans as shown in his speci¬
men sheet of 1772, the types of William Martin, whose brother Robert
had worked with Baskerville,VincentFiggins's roman of 1793, and the
roman of William Caslon III, shown in his specimen of 1798, may be
looked on as examples of the transitional group of faces, that is, faces
which heralded those types which have been called 'modern'.
Characteristics of intermediate or transitional romans
STRESS OR SHADING
More nearly vertical. (In some cases vertical.) See Monotype
Baskerville.
MODELLING,OR GRADATION FROM THICK TO THIN STROKES
More pronounced than in the old faces but slight when compared
with Bodoni. In other words it is not abrupt.
SERIFS(FEET)
When bracketed the bracketing is usually finer than in the old faces.
Some transitionals have flat, but not very thin, unbracketed serifs.
See Monotype Fournier.
OTHER DISTINGUISHING FEATURES
Some transitional faces show a definite tendency to lateral
compression or condensation.
'D. B. Updike. Printing Types, Their History, Forms, and Use. Vol II.
65
G