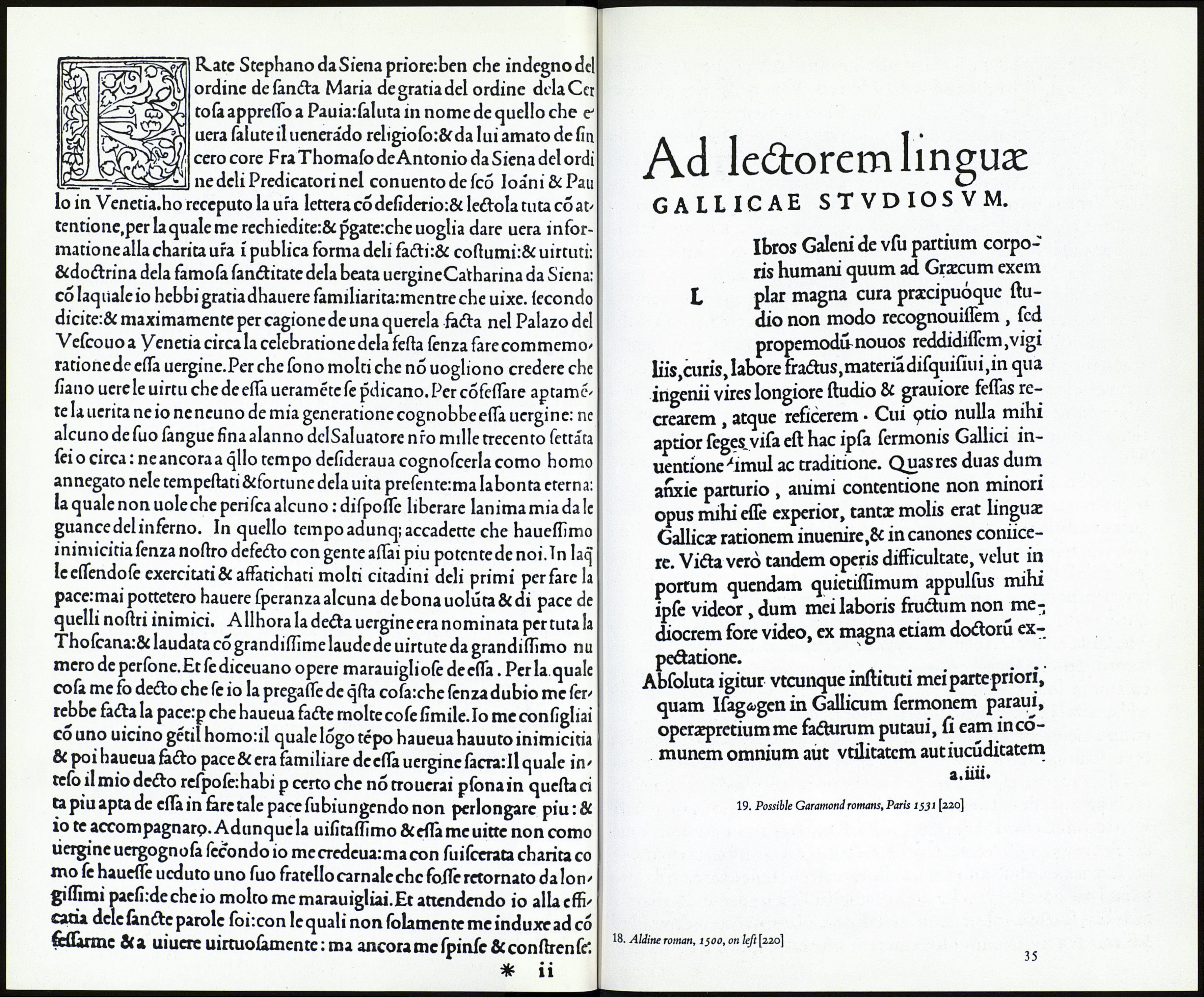 AN INTRODUCTION TO THE HISTORY OF PRINTING TYPES
celebrated Parisian Claude Garamond. His beautiful founts had a wide
distribution.They were used at Antwerp by Christopher Plantin, and
in a comparatively short time appeared in Venice and Florence ! Event¬
ually the Aldine roman influenced the design of types in this country
through Dutch versions cut by Christoffel van Dijck and others/By
the end of the (sixteenth) century'says Mr A. F.Johnson'the Garamond
romanhad become the standard European type.' ' OurWilliam Caslon I
(1692-1766) has been called'the first really competent engraver & cast¬
er of types in this country'2 and the last perfector ofthe old-face design
Characteristics of old-face romans
STRESS OR SHADING
Oblique or biassed, i.e. thickest parts of curved forms approximately
North-East/South-West.
MODELLING,OR GRADATION FROM THICK TO THIN STROKES
Gradual but more pronounced than in the Venetians.
serifs(feet)
Bracketed, but no longer slab and therefore lighter than in the Venetians.
other distinguishing features
The capitals are often lower than the ascending lower-case letters
and are in general narrower than those ofthe Venetians. Many ofthe
lower-case letters are also narrower than those ofthe Venetians.The
lower-case e has a horizontal bar.
■In Type Designs: their History and Development. Grafton & Co. London 1934.
2A. F.Johnson in Type Designs.
32
ELEVTERJLYDA CONDVCTO. VIDE РЕК LA VIA.
ET AL PALLATIO COSE EGREGIE ET VNA EXIMIA
OPERA DI FONTANA,
ECEPTO AFFABILMENTE ET DALLE PIE
tofe NymphefuWmenteamcurato,& tutto dalle blan
diuole pueilc cófortato,& gli infugati fpiriti n 6 medio¬
cre recentan, Altutto cheeifeconieclurareualeua grato
&piacerfi,uolétera prompto exhibendomejicentemé-
tefamiliare8cdediriffimomeexpofi.Etperche haueáo
Alabaftridiapafmatid,Ôduarculifmigmaticidoro&dipetre fine,& luce
ri fpeculi.&aureidifcerniculi nelle fue delicate mano, & candidi uelami
nidifetaphcati.ScbalneareinteruleorTercnü'meportitore.recurabonde
mi diíTeron.Cheilfuoacceífoadqueftoloco era perche ueniuano al ba-
gno.Etimmediatefubiunxeron.Volemochecum nui tu uengni.Ilqua
iecomdimntie.oue funde una fontana.non tu quellauedefti:' Io riueré
tcmenterifpofi.VenuÌhlIìme Nymphe. Siinme mille & uarie lingue lì
ritrouaueron.io acconciamente non iaperei rendere le'demerite grafie. Se
rengratiaretanta domefticabenignitate,imperoche opportuniMìmamé
teuiuificatomchaucte Dunque non acceptare tale gratiofo& Nympha
leinuitatorio,ruftica uiltate fi reputarebe.Et per tato cum uui più praito
mefœliceaîxiuimeriaeflêndoferuo.chealtrondedominareJlpchequa'
toconiefturarepoflb inquiline&contubernalefiatediomni dilecto&
uero bene.Douete (apere chio uidi la mirauegliofa fontana & cum folcire
fenfo fpeculata,piu preclara opera che ad gliochii mei unque fé reprafen
laitecófeitb&affèrmojìttantolanimomiofolerteoccupai illecito circa
diqllaitentaméteriguardatila,6ïigluuiamentebeuendo,lagraue&diur
namiaiète (àlubreméteextingucndo,che più oltra expiare no andai.
Refpofeunalepidulaplacidamétedicendo.Damilamano. Hora fi
tuíbfpite& ilbeneuenuto.Nui al pra*fentefiamo ein que foriate comité
comeiluedi,Et io me chiamo' Aphea.Etqueítacheportali buxuli ¿kgli
bianchiffimih'nteamini.e nominata Offreflìa. Etqueftaltra che dil fplen
dentefpeculo(delitienoítre)egerula, Oraífiaeil fuo nome» Coflei che te¬
nda (onora lyra.edicb Achoe. Quella ultima, che quello uafo di pretio
iìfiìmo liquore baiula.ha nome Geuffia♦ Et andiamo compare ad quelle
temperate Therme,adoble¿tamento & dilecìo.Diquebreuemente anco
ratu (poi che la propitia fortuna tua quiuic caduta) uenirai cu m n ш la ta
17. Roman employed hy Aldus in 14Q9 [22°]
E