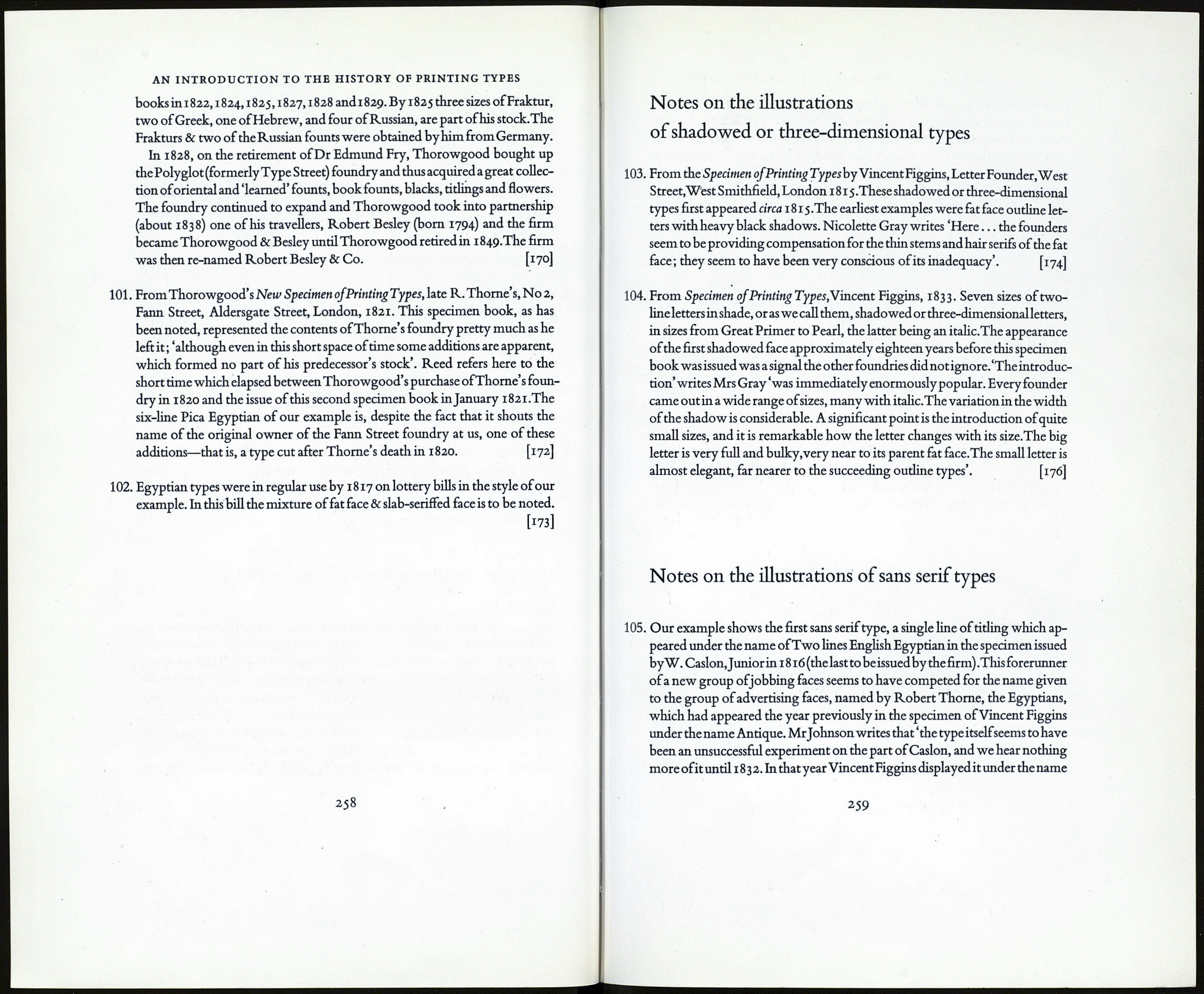 AN INTRODUCTION TO THE HISTORY OF PRINTING TYPES
unlikely of Thome to issue a specimen such as the six lines Pica No i—our
iUustration No 97. In this example it will be noted that the serifs in the name
T H О R N (sic) are aU bracketed but a variant i s shown on the page foUowing our
specimen, a six-lines Pica No 2 in which the serifs of the capitals in the same
name (thorn, sic) are unbracketed, if we except the N. Although on the
same body the No 2 size is a considerably heavier letter in the upper-case,
a fraction larger in face and showing in the О and R considerably reduced
counters. It is only shghtly wider in the upper-case than the No 1.
The twelve-line Pica roman No 2 (our iUustration No 98) is by no means
the largest fat face in the volume.Two folding plates show 14 Line Pica roman
and itahc specimens headed ' Cast in mould and matrixes', and the largest fat
face shown in the book is one of 24 lines Pica. Note in the 12-line pica example
that the lower-case m is wider than the capital above it ! [165,166]
256
Notes on the illustrations
of antique or egyptian types
99. Our example, the first of what we caU Egyptian types, appeared in Vincent
Figgins's Specimen ofPrintingTypes, 1815, under the tide antique, a name
which remains an alternative today for these slab-seriffed faces. Mr Johnson
thinks that Egyptian was the original name, and Antique the copy. From the
evidence avadable it cannot be proved that Robert Thome was the inventor
of egyptian faces but the name is first used in connection with types from his
foundry. Mr Johnson refers to the Figgins Antique capitals of our specimen
and says that in 1820 other founders had shown the letter 'so that Thome's
priority isnot beyond dispute'. A reference to letteringin the phrase'Fashion¬
able Egyptian Sign-Boards' appeared in 1806 (see page 169) but no Egyptian
type is known in that year.
The face was in regular use by 1817 on the bub of lottery contractors; it
was used by the bookseUerWüham Hone in 1819 and from 1821 on the bills
ofDrury Lane Theatre. From 1821 it was also used as a heading type in books.
One of the earhest continental specimens to show the design was that of
Andreae of Frankfurt in 1830. InVincentFiggins's specimen of 1833 he shows
a 20-line Pica Antique ! [168]
100. Robert Thome died in 1820 and in June ofthat year his foundry was put up
to auction and sold complete to William Thorowgood who is said to have
bought the business with the proceeds of a draw in one of the State Lotteries !
In the catalogue of the sale are listed six sets of matrices in the sizes two-line
Great Primer to Brevier, under the heading Egyptian.
Thorowgood's first specimen book was issued in 1820 soon after the pur¬
chase and in it appear the six Egyptians. Our examples, two line Great Primer
Egyptian and two line Enghsh Egyptian are taken from his second specimen
book—New Specimen of Printing Types, late R.Thome's, No 2, Fann Street,
Aldersgate Street, London—which appeared in January i82i.The specimens
shown in this book represented the stock ofThorne's foundry much as he had
left it. (It is interesting to note that 132 pages of composed specimens were
left in type at the time of Thome's death) .Thorowgood proceeded to organ¬
ize the affairs of his new business 'with great energy' says Reed 'and no smaU
success' despite the fact that he was neither founder nor printer. In 1822 he
was sworn Letter-Founder to His Majesty and issued in that year a Greek
fount.The foundry evidendy prospered for Thorowgood issued specimen
257