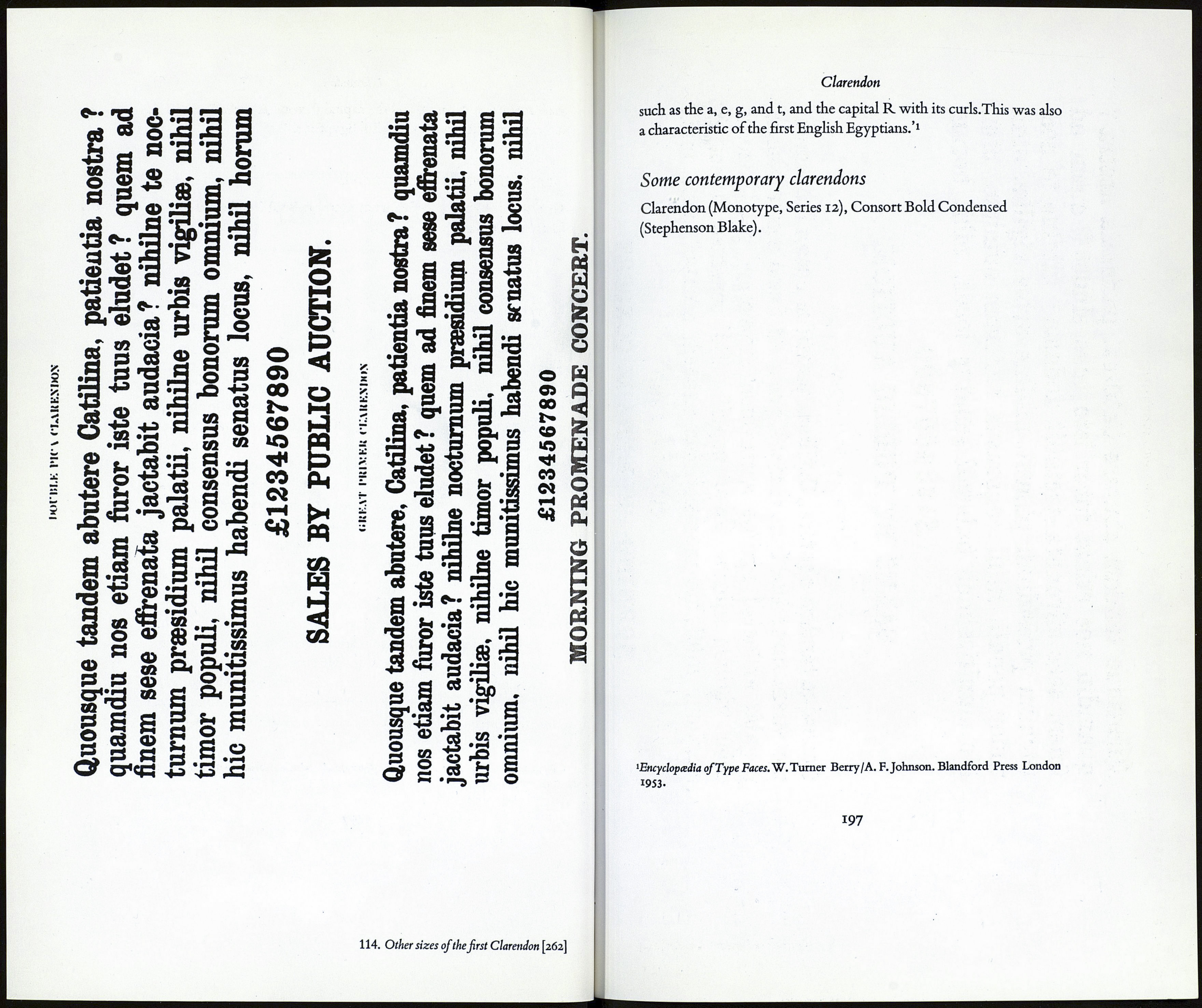 .S злз
_L bri
m о
о
Ö
2
H
ч
и
И
СП
I—I
О
И
ел
И
15
H
Clarendon
H
The first Clarendon, a modified Egyptian style of letter, was register¬
ed by W. Thorowgood and Co. of the Fann Street Letter Foundry in
1845.1 No sooner had the copyright period of three years (with which
the letter was invested) expired/than the trade was inundated with all
sorts of Piracies and Imitations.....'We have seen that the earliest
Ionics were bold display types, but if Besley's rather rough letter was
somewhat compressed, a comparison oí weights shows scarcely, if any,
differentiation between it and the earliest Ionics. While our contempor¬
ary Ionics are no longer bold display faces but are designed in the main
as newspaper text faces, i.e. normally weighted types for continuous
reading, the Clarendons have remained dark-faced types & their main
field of employment has been for distinguishing words in works of
reference. Such has been their popularity for this kind of work that
Clarendon has long been a synonym for bold or dark-faced types—to
many old-established printers it is a generic name for bold composition-
sized faces.The feature noted, which marked Besley's Clarendon from
its predecessors, the Ionics, though not a characteristic of all nineteenth
century Clarendons is one which marks contemporary versions of the
type also.They are, in the main, somewhat condensed faces.
Clarendon is now classed as 'an Egyptian with more differentiation
of colour and rather lighter serifs than the original model. Some letters
follow the roman model rather than what we now think of as Egyptian,
''There had been types of similar design before Besley's, which went under the name of
Ionic' A History of the Old English Letter Foundries.T. B. Reed.
195