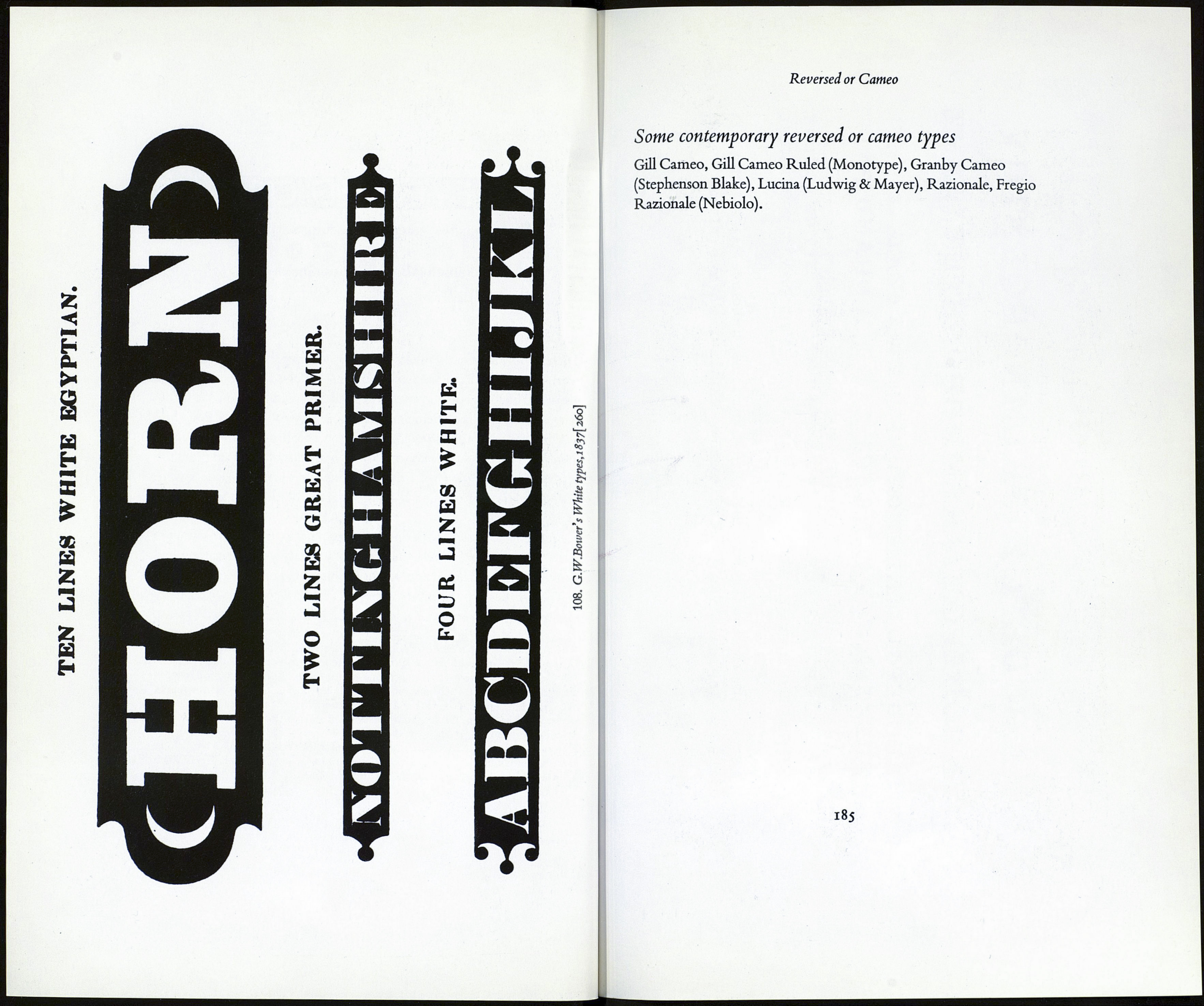 s
tí
о
о
о
о
й
о
£
Q
ел
К
H
t>
S
5
ел
р
<ч
о
ь-1
Рн
СЛ
W
g
I—I
M
О
i—i
И
о
REVERSED OR
rll1
jíl!L...l.iiii..L
таг
!|і"«ц|Ц|г
lili
These types are of early nineteenth century origin.The first examples
were Egyptians, Fat Faces, and Tuscans1 reversed white on a black
ground.Thorowgood shows a Reversed Egyptian italic in his speci¬
men of 1828 and the Sheffield founders, Bower & Bacon a Four-line
White—fat face capitals reversed white on a black ground—in a speci¬
men of 1830. Unlike the contemporary versions of reversed types the
earliest examples appeared on continuous black grounds—there were
no white lines separating adjoining letters as there are in present day
examples.
Enjoying a relatively brief period of popularity these reversed types
went almost entirely out of fashion about forty years after they had
first appeared and the design was not resuscitated until the 1920's.
Today types of this kind are sometimes called Cameo2 and are usually
sans serif capitals reversed white on a black or shaded ground.
'"The Tuscan, was, as Mr Morison points out, invented in the fourth century by Pope
Damasus I. Its characteristic is that the points of the serifs are extended and curled, prob¬
ably bifurcating the stem. In the nineteenth century it tends also to acquire a bulge in
the middle of the stem.. .The first nineteenth century English Tuscan was brought out
by Figgins in 1815. Between 1815 and 1875 the letter form was subjected to various de¬
vices to vary its colour, shape or shadow.' Nicolette Gray in Nineteenth Century Orna¬
mented Types and Title Pages.
*A precious stone, as the onyx, agate, sardonyx, etc, having two layers of different colours,
in the upper of which a figure is carved in relief, while the lower serves as ground. This
is the definition of Cameo given in the Oxford Dictionary.
183
56855367