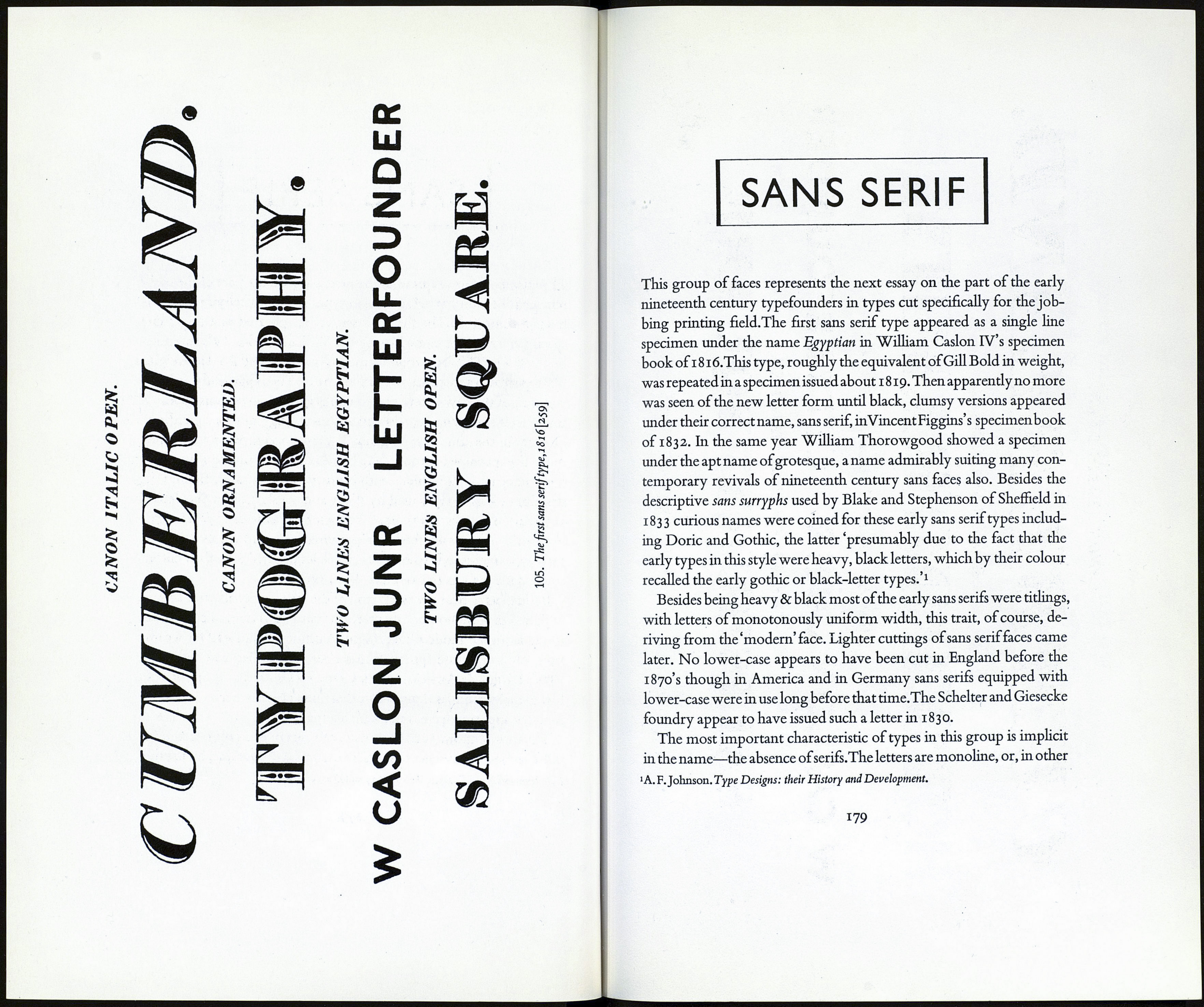 Two-Line Letters in Shade.
GREAT PRIMER.
PICA.
ІШ(ШШР(ШШЩІ
LONG PRIMER.
ішжшішешщжішшшрів
BREVIER.
NONPAREIL.
PEARL.
PEARL ITALIC.
TWO-LINE ENGLISH ORNAMENTED.
ABCDEFGHIIL
V. FIGGINS.
104. Shadowedtypes.VincentFiggins, 1833 [259]
Shadowed or Three-dimensional
These remarks by Mr Stanley Morison in his article on decorated
types1 brings his survey to the middle of the nineteenth century. By
that time the Victorian typefounders, whose first shadowed or three-
dimensional types appeared about 1815, had produced a whole range of
fantasticletters.fatfaced, egyptians or antiques and sans serifs (the group
of faces next to be described) in shadowed or three-dimensional form.
The terms shadowed or three-dimensional used to describe types in
this group, that is, types possessing in addition to the normal character¬
istics of a face, a third dimension—that of depth—includes types which
our nineteenth century founders issued under a wealth of titles (some
thoroughly confusing—as open or shaded) including Tuscan, Ornament¬
ed and Perspective.
Some contemporary shadowed or three-dimensional types
Figgins Shaded (Stevens Shanks), Orplid (Klingspor), Profil (Haas),
Sans Serifs Shaded (Stephenson Blake), Stridon (Warnery),Thorne
Shaded (Stephenson Blake), Umbra (Ludlow), Ver di (Bauer).
¡InTheFleuronNoó.
177