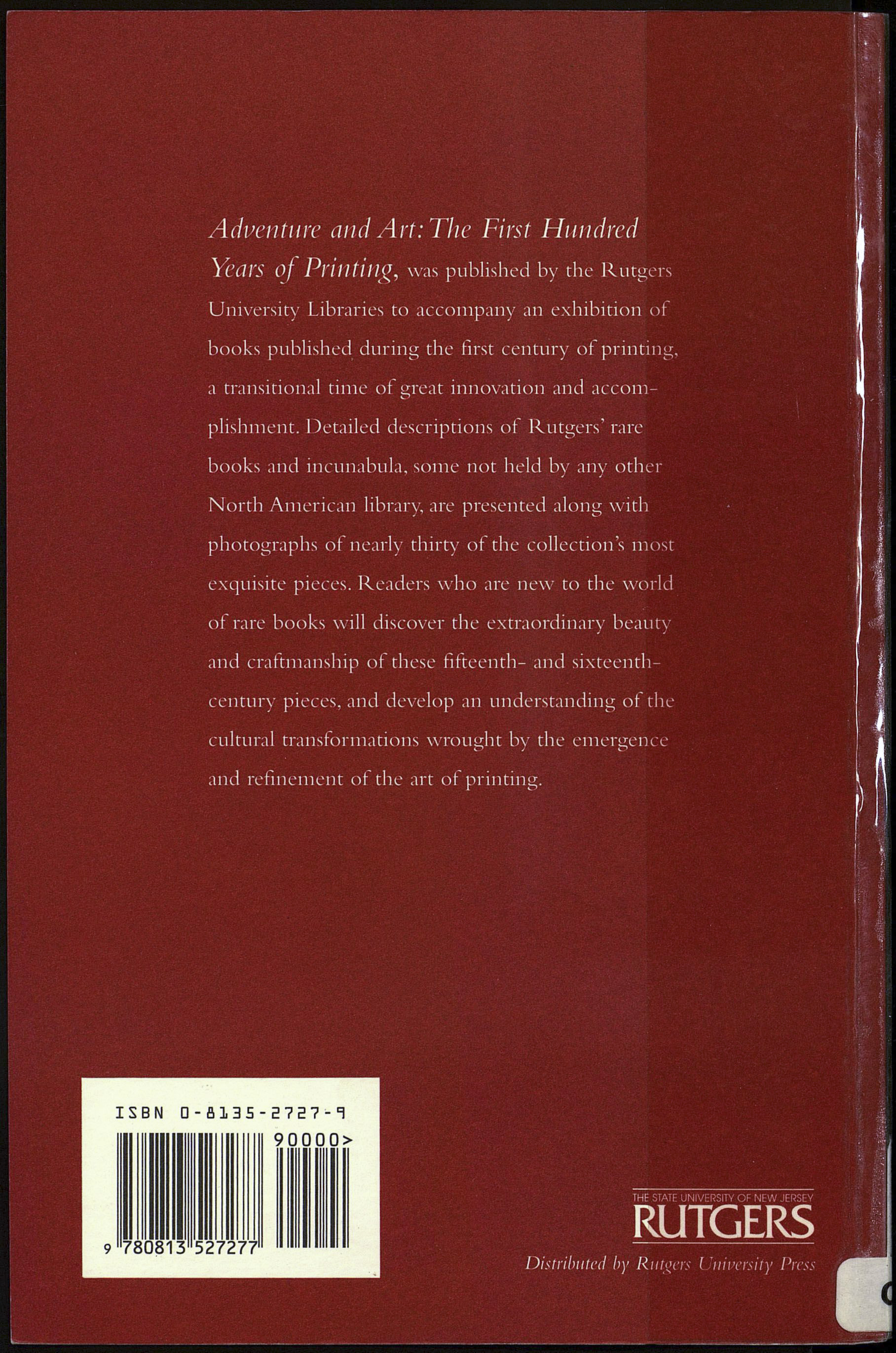 Lowry, Martin. 1979. The World of Aldus
Manutius. Ithaca, NY: Cornell UP.
Lowry, Martin. 1991. Nicholas Jenson and
the Rise of Venetian Publishing in Renaissance
Europe. Oxford: Basil Blackwell.
Madden, D.H. 1924. A Chapter of Mediae¬
val History. London: J. Murray.
Mongan, Elizabeth, ed. 1940. The First
Printers and Tlieir Books, compiled by
Elizabeth Mongan and Edwin Wolf II.
Philadelphia, PA: Free Library.
Morison, Stanley. 1960. Four Centuries of
Fine Printing. New Edition [i.e. 4th rev.
(reset) ed.). New York: Barnes &
Noble Inc.
Morison, Stanley. 1997. Letter Forms, Typo¬
graphic and Scriptorial. Point Roberts, WA:
Hartley & Marks Publishers.
Oswald, John Clyde. 1928. A History of
Printing: Its Development Through Five
Hundred Years. NY: Appleton.
Pollard, Alfred W 1901. Book Illustration
in the Fifteenth Century. Tlie Library
11:194-209.
Pollard, Alfred W 1926. Early Illustrated
Books. 3rd ed. London: Kegan Paul.
Proctor, Robert. 1900. The Printing of
Greek in Tlte Fifteenth Century. Oxford:
Oxford UP.
Roylance, Dale. 1986. European Graphic
Arts :The Art of the Book from Gutenberg to
Picasso. Princeton, NJ: Princeton Univer¬
sity Library.
Rath, Erich von. 1938.The Spread of
Printing in the Fifteenth Century. In A
History of The Printed Book, ed. Lawrence
С Wroth, 59-120. New York: Limited
Editions Club.
Rytz,Walther. 1936. Pflanzenaquarcllc
des Hans Weiditz aus dem Jahre 1529.
Bern: Haupt.
Sacchetti, Franco. 1970. Novelle. Milano:
Fabbri.
Stannard, Jerry. 1969.The Herbal as a
Medical Document. In Bulletin of the
History of Medicine 43: 212-220.
Steinberg, S.H. 1961. Five HundredYears of
Printing. Harmondsworth: Penguin.
Stillwell, Margaret Bingham. 1972. The
Beginning of The World of Books, 1450-
1470. New York: Bibliographical Society
of America.
Thomas, Henry. 1916. Tiie Romance of
Amadis of Gaul. 2d ed. Porto: Typographia
da Empresa Litteraria e Typographica.
Timperley, C.H. 1839. Dictionary of Print¬
ers and Printing. London: H.Johnson.
Tory, Geoffroy. 1927. Champ fleiiry.Trans.
George B. Ives. New York: Grolier Club.
Ullman, Berthold L., and Städter, Philip.
1972. The Public Library of Renaissance
Florence. Padova: Antenore.
94
Key to Abbreviations
Adams
Adams, Herbert Mayow. 1967. Catalogue of Books Printed on the
Continent of Europe, 1501-1600, in Cambridge Libraries. London:
Cambridge University Press.
Baudrier
Baudrier, Henri Louis. 1895-1921. Bibliographie Lyonnaise. Lyon:
Librairie ancienne d'Auguste Brun.
BN
Paris. Bibliothèque nationale. Department des imprimés. 1897-.
Catalogue généél des livres imprimés de la Bibliothèque nationale.
Paris: Impr. Nationale.
Duff
Duff, Edward Gordon. 1978. Fifteenth Century English Books:
A Bibliography of Books and Documents Printed in England and of
Books for the English Market Printed Abroad. Philadelphia: R.West.
Editions parisiennes
Moreau, Briggite. Inventive chronologique des Éditions parisiennes du
XVI siècle. Paris: Impr. municipale, 1972- .
Goff
Goff Frederick R. 1964 Incunabula in American Libraries.
New York: Bibliographical Society of America.
Goff(Suppl.)
Goff Frederick R. 1972. Incunabula... A Supplement. New York:
Bibliographical Society of America.
GW
Gesamtkatalog der Wiegendrucke. 1925-. Leipzig: K.W Hiersemann.
Renouard
Renouard, A.A. 1803. Annals de l'imprimerie des Aide. Paris:
A.A. Renouard.
STC
Pollard, Alfred William, and Redgrave, G.R. 1929. A Short-Title
Catalogue of Books Printed in England, Scotland & Ireland and of
English Books Printed Aboard, 1475-1640. London: Bibliographi¬
cal Society.
VD16
Verzeichnis der im deutschen Sprachbereich erschienen Drucke
des XVI.Jahrunderts (ed. Irmgard Bezzel). 1983-1997. Stuttgart:
A. Hiersemann.
95