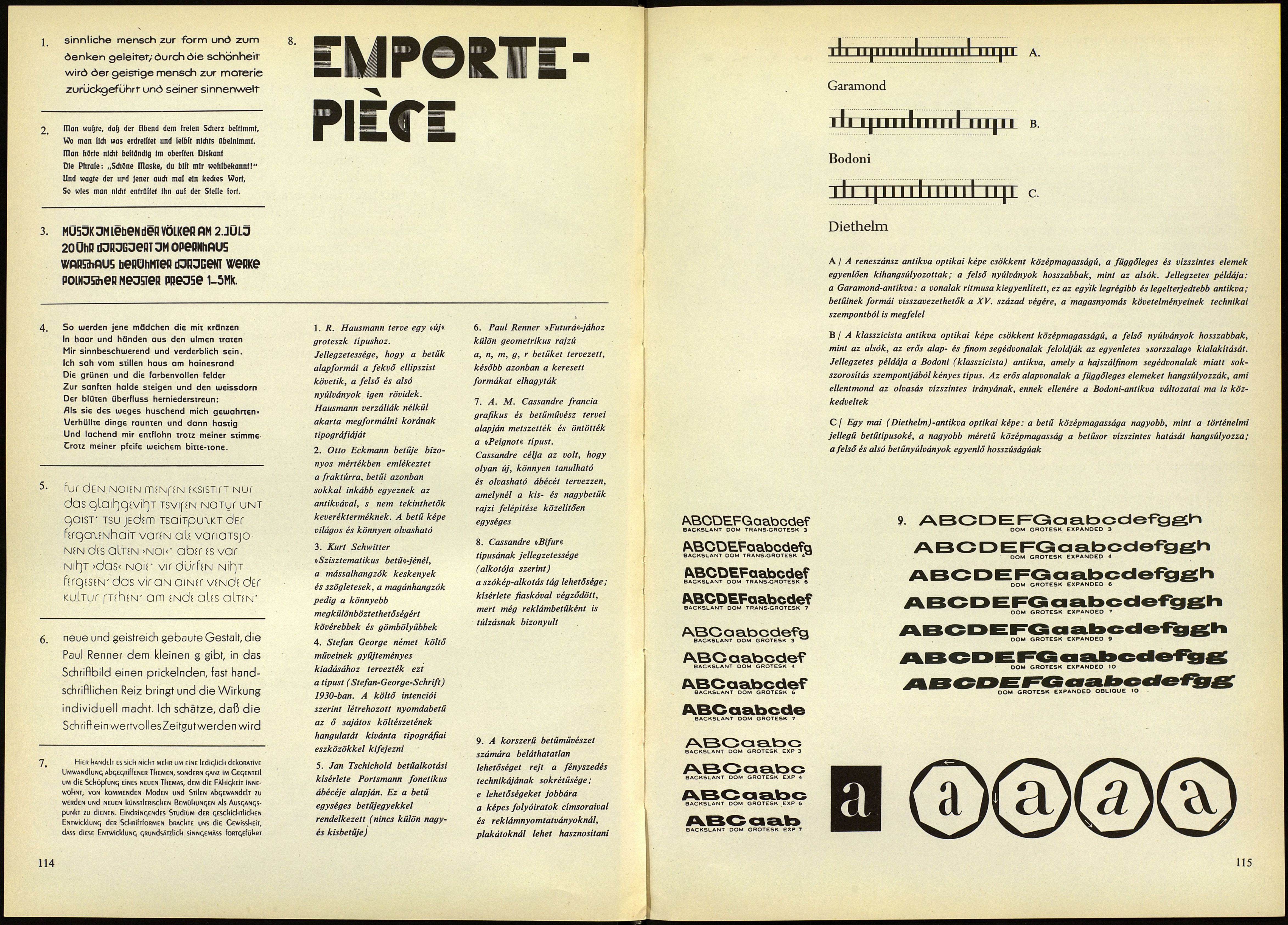 VENUS AND ADONIS.
■VENAS THE
ISUNNE
WITH PUR,
PLE,COL,
OURD FACE,
HAD TANE
HIS LAST
LEAVE OF
THE WEEP,
IINGMORNE,
ROSE,CHEEKT ADONIS HIED
HIM TO THE CHACE,
HUNTING HE LOV'D, BUT
LOVE HE LAUGHTTOSCORNE:
SICK,THOUGHTED VENUS
MAKES AMAINE UNTO HIM,
AND LIKE A BOLD FAC'D
SUTERGINNES TO WOO HIM.
THRISE FAIRERTHEN MY
SELFE, (THUS SHE BEGAN)
THE FIELDS CHIEFE FLOWER,
SWEET ABOVE COMPARE,
STAINE TO ALL NIMPHS,
MORE LOVELYTHEN A MAN,
MORE WHITE, AND RED,
THEN DOVES, OR ROSES ARE:
Egy lap a William Morris aitai 1893-ban nyomtatott Shakespeare »Poems« címü
müböl; a Nicolas Jenson típusa nyomán metszett betiik kissé vaskosak és jól példázzák, hogy
Morrisék még пет értették meg teljesen a tôrténelmi példák formarendszerét
112
infinite, the human and the superhuman, and is a
monumental work of the eighteenth as distinguished
from the seventeenth century, the century of the
Bible and of Milton. Finally, in the nineteenth cen¬
tury, Sartor Resartus, the Essays of Emerson, and
Unto this Last, are related & characteristic attempts
to turn back the Everlasting Nay of scepticism into
the Everlasting Yea of affirmation, & in the presence
of the admittedly inexplicable ÔC sublime mystery of
the whole, toset man again at work upon thecreation
of the fit, the seemly, and the beautiful. Browning's
Men & Women, now in the press, conceived about
the same time, is a more direft presentment of the
same positive solution.
These Books printed, as a first essay, the whole
field of literature remains open to seleft from.To-day
there is an immense reproduction in an admirable
cheap form, of all Books which in any language have
stood the test of time. But such reproduction is not
a substitute for the more monumental production of
the same works, & whether by The Doves Press or
some other press or presses, such monumental pro¬
duction, expressive of man's admiration, is a legiti¬
mate ambition and a public duty. Great thoughts
deserve & demand a great setting, whether in build¬
ing, sculpture, ceremonial,-orotherwise; & the great
works of literature have again and again to be set
forth in forms suitable to their magnitude. And this
?
A Doves Press (T. J. Cobden- Sanderson) termékeibôl, amelyek mar a Jenson-fèle
hagyomány teljes megértését és felújitását jelentették
jövöben mindinkább a fotószedést fogják alkalmazni. A külônféle »torzító« lencsék
alkalmazása hihetetlenül gazdag változatosságot biztosít a betük vonalvastagságában,
a típusok »kurziv« helyzetében stb. Normál betünegatívról különleges lencsékkel kes-
kenyedó vagy» szélesen futo, jobbra-balra doló, s egyéb betüváltozatok készíthetók.
113