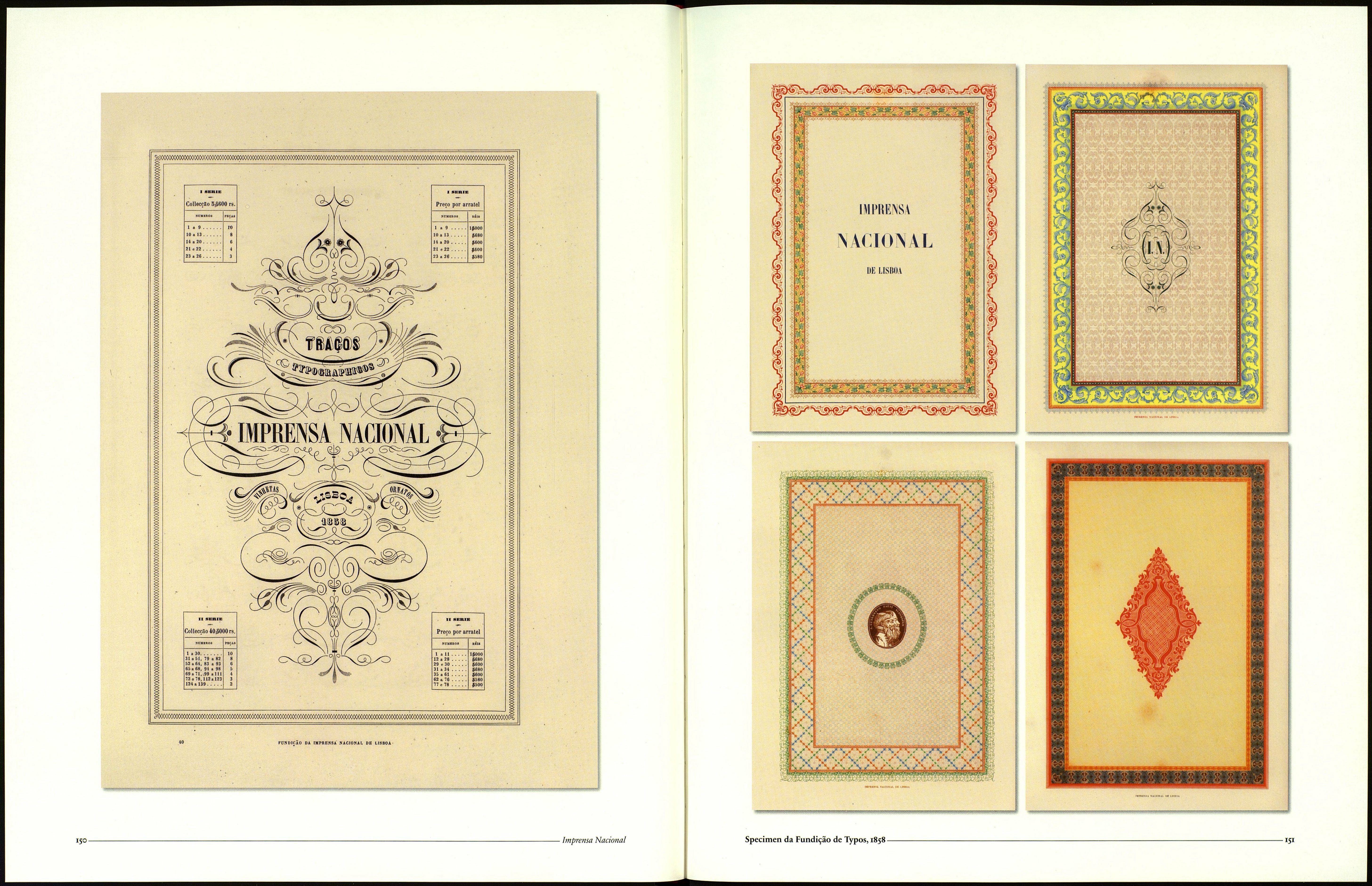 FUNDICÄO DE TYPOS
ІМРІЁШ NACIONAL
li#l
1858, Specimen da Fundiçâo de Typos,
liiiprensa Nacional, Lisboa
In 1858, Portugal was connected to the
rest of the world. The presentation of
these letters speaks for itself.
1858 stand Portugal in engem Austausch
mit dem Rest der Welt. Die Präsentation
der Schriften spricht für sich.
En 1858, le Portugal était lié au reste
du monde. La présentation de ces lettres
parle d'elle-même.
LETRAS CAPITAES DIVERSAS
N'.•71—Соню iá—Arrak! 180 rri>
X." 7Э—Соам 54—Arratcl ICI) п
шшт тшжшт
S.- 78—Coirò 84—AmW itili réb
Ш ШЖЧ?*Ж%?
?ШШШШ
iN.*"4—Саам il—Arralel Inn réb
CERCO DO PORTO
H* 75—Coirò ¡16—Arralel IfiO г
Л." "ti—Coir« И—Arrak'! HI) rtb
lllllll filili
PO 77—Coirò 48—Arralfl Ш réb
VriWV? Ш
> < >
ПШ(Н D» ттгчч \
148
Imprensa Nacional
N.° 11,*} —Corpo 24 —Arratcl 400 réis
N.° 117— Corpo 36—Arratcl 440 réis
N.° 118 —Corpo 32—Arratcl 420 réis
ODEMIRA
N." 22 — Cobi'o 20—Arratel 480 réis
шж шй bâ аэдод
N ° 23 —Corpo 24—Avratel 460 réis
H
n
D SÎK "ЧРг
Ж ж
N.° 24—Corpo 24 —Arratel 460 réis
mm m шт
Specimen da Fundiçâo de Typos, 1858 -
149