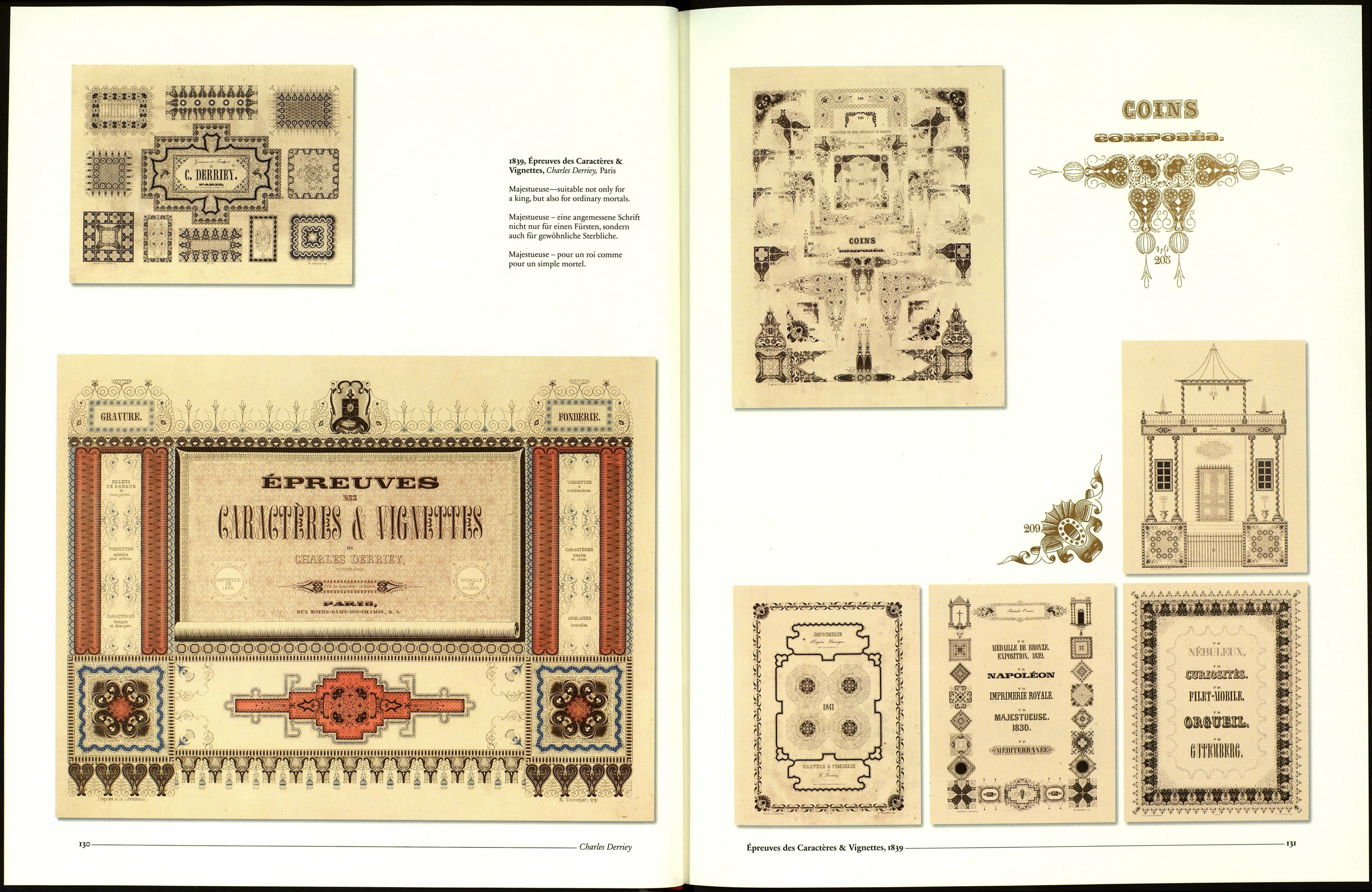 ; i .
SPECIMEN
1> К IN TENU TV I'К.S,
STEPHENSON, BLAKE&Co.
I.IXUUI POUNDERS,
silici tiki,п.
v-
! ì
â
â
m
m
Ш
m
Щ
¡
ш
~
Ш • Ш • ІШШШ
_>4_
1838, Specimen of Printing Types,
Stephenson, Blake & Company, Sheffield
Seen here are several examples of type¬
faces and ornaments. In one simple sheet,
the letters RES are shown in 30-point
Condensed Antique—a feast for the eye.
Die Abbildungen zeigen diverse Beispiele
für Schriften und Ornamente. In einem
Fall die Lettern RES in einer fetten
Egyptienne-Schrift in 30 Punkt, die ein
einzelnes Blatt komplett ausfüllen - eine
Augenweide.
Voici plusieurs exemples de caractères et
d'ornements. Sur cette feuille-spécimen,
les lettres RES sont présentées en Antique
étroit de 30 points - un régal pour les
yeux.
THIRTY LINKS CONDENSED ANTIQUE.
EIGHTEEN LINES CONDENSED ANTIQUE.
Grand
128
Stephenson, Blake & Company
TEN LINKS SANS-SI RKVPHS SHADED.
TWELVE LINES ORNAMENTED, (метлг. boihrs.)
The company Stephenson, Blake &
Company was established in 1819, and
in 1837, it acquired the famous type
foundry H. W. Caslon.
Die Firma Stephenson, Blake is; Company
öffnete ihre Pforten im Jahr 1819,1837
wurde sie von tier berühmten Schrift¬
gießerei H.W.Caslon übernommen.
La compagnie Stephenson, Blake &
Company, fondée en 1819, racheta
la célèbre fonderie de caractères
H. W. Caslon en 1837.
930. I-.
Фа *•
Specimen of Printing Types, 1838-
129