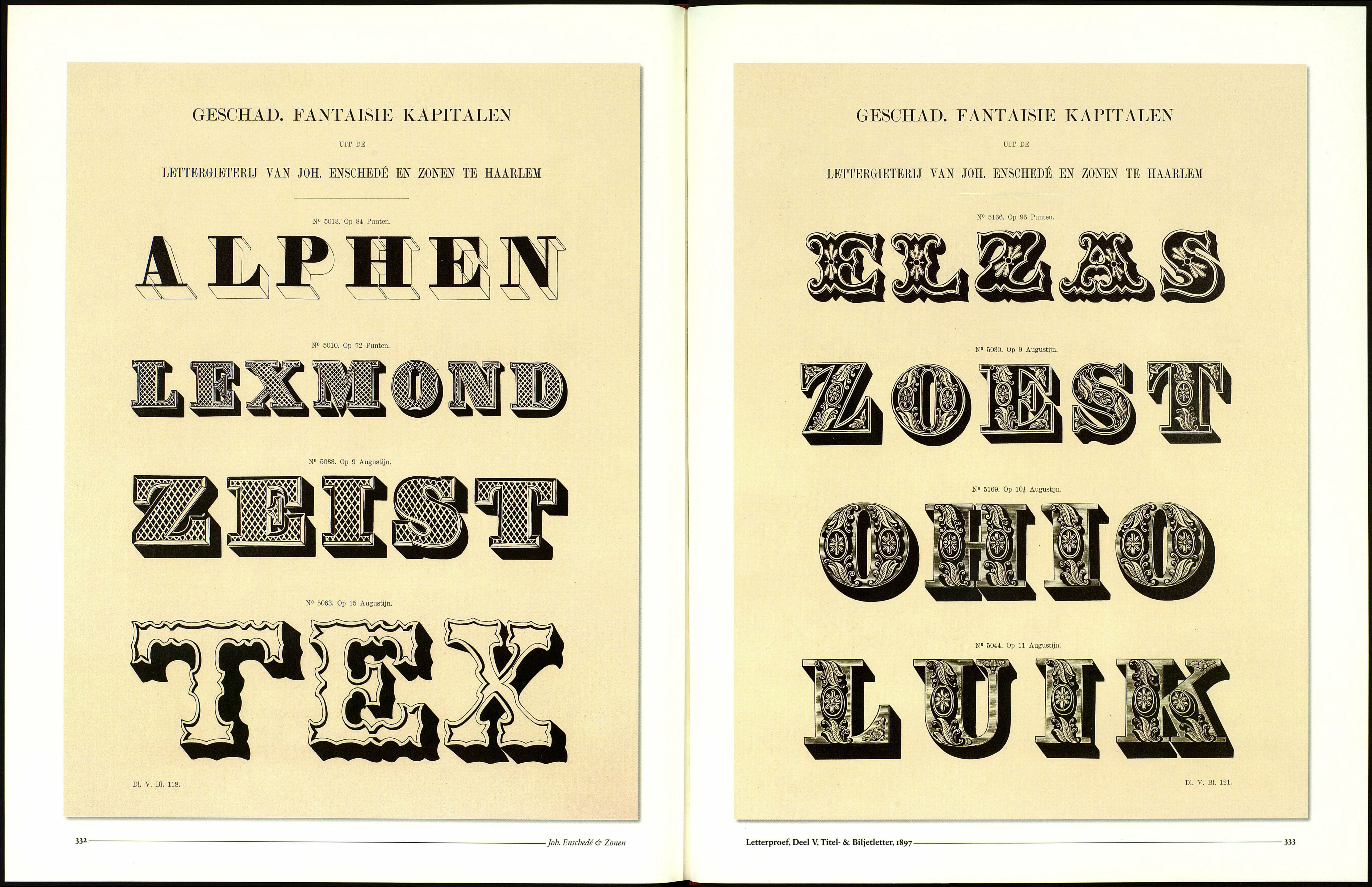 LETTERPROI. I
JOH. ENSCHEDÉ & ZONEN
LETTERGIKTERIJ ТЕ IIAAKLBM
DUEL V
[TEL- en BIL JETLETTE
1897, Letterproef, Deel V, Titel- Sc
Biljetletter, Job. Enschedé & Zonen,
Haarlem
A visual treat: Uppercase and lowercase
letters and types with special accents,
decorated, in perspective, with shadows.
Ein visuelles Vergnügen: Groß- und
Kleinbuchstaben mit besonderen
Akzenten, verziert, dreidimensional,
schattiert.
Un régal pour les yeux : des lettres
et caractères de haut et de bas de casse
spécialement accentués, décorés, en
perspective, ombrés.
VERI. BQÏPT. KAPITALEN
штшіішіш ѵлх jtm. KNsïiKHi: kn zmks tk ііілііші
ШШК1Х- EN (IKSiKi'-sciIlllhTKN VERL EGYPT. KAPITALEN
шпшаші vas л«, mmut ex n га шпа шшогвгаш vas job. kxschbm! их zom те ниша
»AMI *"*—
щ ш
GESCHAD. FANTAISIE KAPITALEN
І.КТТКіИіІгГГКІіи V.\N Joli. KNSi-llKliK KS /i»NKN TK ІІАДНІ.ВМ
НИ
GESCHAD. FANTAISIE KAPITALEN
ьішпшяааш ѵах іое rasameli кя наш m вллнш
» tniH »utili ta 1 МІЫМЫІМ II
LI 1>Ш 1 lilliet
.C.lt ».
il un ВТІЖ jaîa о шипа «T JAARBQEKJB TOOR 1849
1 SEMATRA-EXPEDITIE 5 DE CULTUURWET 1
жаШішм EGYPTE 9
S UTRECHT TIEL 8
33°
Job. Enschedé & Zonen
LETTERÍtIETEIÜJ VAN JOH. ENSCHEDÉ EN ZONEN TE HAARLEM
№ 5170. Op 11 Auguettjn.
№ 5168. Op 11 Aiigustijn.
№ 5081. Op 102 Punten.
Л
JÊÊL.
№ 5040. Op 10,1 Augustijn.
DI. V. HI. 1J:¡.
Letterproef, Deel V, Titel- & Biljetletter, 1897-
ЗЗ1