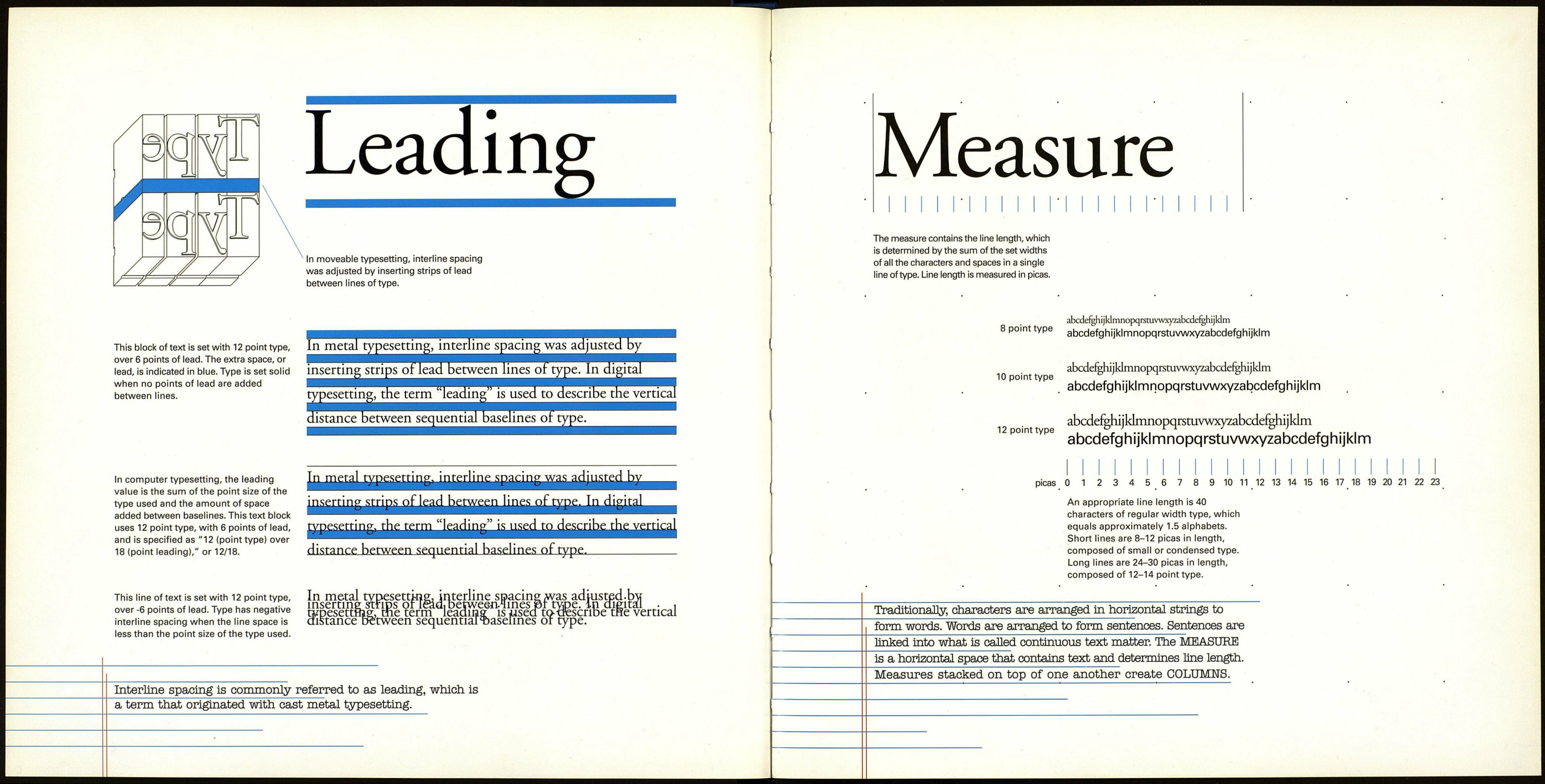 4
i
pr
/
/ XX XX
In moveable typesetting, notches were
cutout of the metal blocks to allow
letters to fit closely.
before kern after kern
AT
AY
AV
AW
Ay
PA
WA
YA
AT AT
AY AY
AV AV
AW AW
Ay Ay
PA PA
WA WA
YA YA
with its own horizontal space known as the set width. The
surface of this zone was known as the shoulder because it
contained the face: a character's identity. In most cases,
when two letters are placed next to one another, the set
widths of the respective faces allow the characters to fit
instances in which the space of one character must he
violated in order to achieve consistent spacing in a single
word. This invasion is known as kerning and is considered
before kern after kern
Va
Tr
To
Ya
Yo
Ly
Va Va
Tr Tr
Tp То
Ya Ya
YO Yo
Üy Ly
In moveable typesetting, each face was cast on a metal block
Certain letters create awkward spacing
when paired with one another. For
example, letters with long horizontal
strokes (such as T) and dominant,
angled strokes (such as A, V, W, Y)
contain more space in their zones than
the other letters.
The "Kern Zone"
close enough to be considered part of a word. There are some
Typ
acceptable behavior between two characters.
W>rdispacing
Interword spacing is specified in terms of
loose, normal, tight. The amount of space
between words should be proportional
to the size of the letters used.
Traditionally, normal word spacing
has the width of an i.
Traditionally, loose interword spacing
has the width of an o.
I nterwordispacingiisitheispacei between iwords.
Likeitrackmg,ünterwordispacmgüsiadj usted
un ¡form ly ¡with ¡nia ¡sentence,¡paragraph ¡ori larger
blockiofitext.
I nterwordospacingoisotheospaceo between
words.oUkeotracking,omterwordospacingois
adjustedouniformlyowithinoaosentence,
paragraphoorolargeroblockoofotext.
Interword spacing is the space between words. Like
tracking, interword spacing is adjusted uniformly within
a sentence, paragraph or larger block of text. Certain
procedures also apply to keeping words properly distanced.